GyroGrub® is Coming to the Bay Area
Press Release
•
updated: Nov 16, 2018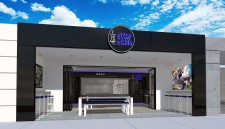 SAN FRANCISCO, November 16, 2018 (Newswire.com) - After months of anticipation, the wait will soon be over. Fear not, Greek Street Foods lovers GyroGrub® is opening soon in the Bay Area. DGN Capital Group's first of four planned locations could open in early February 2019 at Fisherman's Wharf (235 N. Jefferson St). Featured menu items KronoBROI® Gyros and Signature Frozen Custard spun daily at every location, which paves the way for the GyroGrub® unique concept.
New menu items,
GyroGrub® Fries ▪ Lamb & Beef Gyros, Fries, Bacon, Melted American Cheese.
Saganaki -Greek Flamed Cheese OPA!
Enjoy Wine & Beer,
GyroGrub's Wine Selection is hand-picked and produced for our menu by VinecCrush ® .
Greek Beer FIX - The "vintage" of Greek beers!
Cheers, OPA…
Contact
DGN Capital Group LLC
Attn: Media Relations
investor@dgncapitalgroup.com
Source: DGN Capital Group LLC
Related Media