Guardly Announces October 19th 2016 Kick-Off Date for 'Indoor Positioning Systems: IPS From the Ground Up' - Executive Learning Series
Press Release
•
updated: Oct 11, 2016
Guardly Corp - leader in situational awareness apps - announces 'IPS executive learning webinars starting Oct. 19, 2016.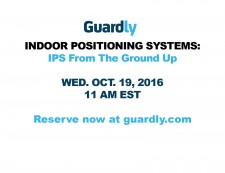 Toronto, Ontario, October 7, 2016 (Newswire.com) - ​​​​​​Guardly CEO Rob Moffat today joined Director of Sales Luke Slan and VP Business Development Tom Sinnott to announce October 19th, 2016 as the date for the first of three monthly educational webinars: 'Indoor Positioning Systems: IPS From The Ground Up.'
Tailored to fit the needs of operations and site safety executives who want to make informed decisions about deploying this emerging personal location game-changer in their enterprises, the webinar series starts with IPS drivers, technological insights and use cases from real-life Guardly IPS deployments.
Our educational series will help participants see and prepare for what's coming, and make smarter decisions today that will help them in the future.

ROB MOFFAT , CEO
"IPS has been available for a few years as an exotic wish-list item for marketers, but is rapidly becoming a must-have solution for everything from routine property management to site and staff safety as technology improves, costs fall and active shooter stories make headlines," says Slan.
IPS is a mobile personnel locating solution that adds another (vertical) dimension to pinpointing people in multi-story buildings. IPS uses signals from beacons or other devices installed on-site to communicate with smartphones, adding vertical positioning to longitude and latitude coordinates -- so operations managers can locate their staff accurately in any office or common area, on any floor in any multi-story building.
IPS runs on one or a combination of a few currently available technologies:
Bluetooth Beacons

Wireless triangulation

Magnetic signature

Light or sound signature

RFID
With more advanced IPS systems like Guardly's, a user's movements can be seen in real time by command staff while assistance is rendered via a secure, dedicated communications channel to their smartphone or tablet.
"Whether you need to find a custodian who is closest to a blocked drain reported by a tenant, or need to find and direct your people in an emergency situation when every second counts," explains Sinnott. "IPS will save valuable time in everyday situations and lives in extreme ones."
With insights gained from real-life multiple, full-scale deployments and years of IPS and mobile apps experience, the October 19th webinar begins with an overview of the state of IPS today, and provides a firsthand look at drivers, trends, technologies and use cases in different industry verticals.
The second November 17th webinar looks at how enterprises in office towers, retail malls and large public buildings can determine and test their top priority IPS use cases.
The last 2016 webinar will be held on December 7th, and will cover integration with enterprise IT as well as other incident management, crisis communications and situational awareness apps. More webinars are planned for next year and a schedule will be announced in January 2017.
"Over the next couple of years, IPS will see the same rapid advances and adoption made by GPS over the last decade," says Moffat. "Our educational series will help participants see and prepare for what's coming, and make smarter decisions today that will help them in the future."
To reserve your seat, please register please follow our IPS From The Ground Up Registration Link, or contact us for more information:
Guardly Corporation
20 Maud Street, Suite 400
Toronto, Ontario M5V 2M5
CANADA
For more information:
Luke Slan, Director of Sales
(844) 482-7359 toll-free
sales@guardly.com
Guardly is a next generation mobile alerting platform for accurate, accountable and secure communications between enterprise operations and security command centers and field personnel with smartphones or tablets. Guardly improves response time and efficacy by leveraging SaaS, smart-phone and beacon technologies for actionable knowledge in any type or severity of incident. Users from multinational enterprises, campus and property managers and resource operators can 'Know More Now' with Guardly Mobile, Guardly Command, Guardly IPS and Guardly API.
GuardlyIPS integrates Bluetooth Low Energy (BLE) beacons within its indoor positioning framework and is supported on Android smartphones, Apple IOS and BlackBerry 10 devices. GuardlyCommand™ manages inbound and outbound alerts and is helps security operations locate, manage and communicate with users around the world. GuardlyMobile delivers an end-to-end mobile experience for customers and is compatible for Android and Apple iOS devices. GuardlyAPI integrates with other systems to provide location based authentication to traditional alerts and tickets.
Source: Guardly Corp.
Related Media
Tags