Grupo Terra - Milestones 2018
Press Release
-
updated: Feb 6, 2019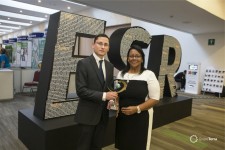 TEGUCIGALPA, Honduras, January 10, 2019 (Newswire.com) - In Grupo Terra we lived a year full of challenges and achievements, always proposing to do better things in every place that we have presence, and it is through a business vision and the effort of our team, that we can successfully conclude this 2018.

The dedication of a talented team allowed us to celebrate our 40th anniversary as a corporation this year, reflecting on all the goals that we set and businesses undertaken, with the main objective of contributing in the development of our communities and families.
Achievements
Within the scope of our business units, Terra Energy has received an honorable mention by the Mexican Center for Philanthrophy "Centro Mexicano para la Filantropía" (CEMEFI) for the protection of the cultural heritage in the Archaeological Park of Hidro Xacbal.
In Terra Petroleum our focus is to benefit more users and consumers with our excellent products. Through the launch of new service stations in the oil network, we now have more than 1,500 stations operating in Central America and Colombia.
Through Terra Infraestructure's dedication and effort to provide great customer service, Ramón Villeda International Airport has maintained its ranking among the five best airports in the Latin American and Caribbean region with 2 million passengers in transit per year.
Terra Real Estate has expanded its investments in Central America, with the acquisition of 42,065 square feet of office space, which includes 50% of a tower under construction in the new AVIA Complex located in Zona 10, Guatemala City. Terra Real Estate is currently present in three countries of Central America.
Acknowledgments
For the tenth consecutive year, we were honored with the Social Responsible Company Seal by FUNDAHRSE, thanks to the commitment on sustainability, economic growth, social development and the environment.
Also, the constant growth and the generation of business opportunities in a responsible way, allowed us to be featured in Forbes Central America magazine among the 20 competitive companies in Latin America.
Environmental responsibility
Each member of our Terra family knows the importance of the commitment we have to the environment, which is reflected in the voluntary participation in " A Day For ", where we managed to plant 5,225 trees in Honduras, Guatemala, Nicaragua, El Salvador and Costa Rica – an effort with our employees carried out annually with the aim of contributing our grain of sand with environmental conservation.
Commitment to education
In addition to this, celebrating 40 years as a corporation, our social arm Terra Foundation arrived to two decades from its creation.
In the framework of its anniversary, the 3rd edition of Magisterial Conferences was held at a regional level, with the participation of the renowned international writer Elsa Punset, with the aim of providing more than 900 teachers and authorities that participate in the educational programs, experiences and practices that contribute to their professional life as well as that of their students.
The strategic alliances were a key element this year to complete great achievements in education.
Terra Foundation in conjunction with "Teach a Man to Fish" executed the program of "entrepreneurial schools" creating 46 school microenterprises with the participation of 1,300 students participating in "Tutoring Scholarships".
We ended a year, grateful to each collaborator who made it possible to reach these achievements, we are proud to have a valuable team that every month showed passion and interest in all their work.
We are motivated to start a new year. We have the goal to continue innovating and above all contributing to the development of the region.
We will continue creating better opportunities for our people through new business ideas, training to grow small and medium enterprises, we will strive to make more volunteer hours doing activities that impact the environment positively.
We know that with effort and excellence we will achieve new goals in 2019 always seeking the welfare of our countries.
Source: Grupo Terra
Share:
---
Categories: Industry News
Tags: Fundación Terra, Grupo Terra, Terra Energy, Terra Infrastructure and Terra Real Estate, Terra Petroleum
---