Grupo Terra's Efforts in Social Responsibility Recognized at Latin American Meeting for Socially Responsible Corporations
Grupo Terra is committed to sustainable and responsible entrepreneurship and takes seriously its corporate responsibility.
Press Release
-
updated: Jun 6, 2019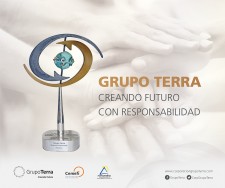 MEXICO CITY, June 6, 2019 (Newswire.com) - The Mexican Center for Philanthropy (CEMEFI) and the Alliance for Corporate Social Responsibility (ALIARSE), awarded Grupo Terra the distinction of "Company Committed by Corporate Social Responsibility in Latin America 2019" at the 12th edition of the Latin American Meeting of Socially Responsible Companies. This is the second time Grupo Terra has received this distinction.
CEMEFI promotes the philanthropic commitment and social responsibility involvement of citizens and organizations in order to achieve a more equitable, solidary and successful society. Grupo Terra fits perfectly into CEMEFI's mission, particularly the company's focus on working towards the United Nations Sustainable Development Goals, which are a collection of 17 global goals set by the United Nations General Assembly in 2015 for the year 2030. Together they create a blueprint to achieve a better and more sustainable future for all.
"We have been helping people create a more sustainable future for the last 40 years," says Fredy Nasser, president and CEO of Grupo Terra. "Grupo Terra is committed to sustainable and responsible entrepreneurship, creating more opportunities for a successful society. Part of our daily strategy and philosophy is 'doing things right,' which has helped us continue fostering great projects in nine countries of the Americas."
Grupo Terra's corporate responsibility focuses on building long-lasting stakeholders and diverse civil society relationships with an eye towards extended sustainability objectives. The programs developed by Grupo Terra are distinguished mainly by having an impact on the Sustainable Development Goals.
For instance, Grupo Terra is supporting thousands of families by creating more than 18,000 direct and indirect work openings across countries in Central America and in Peru and Colombia. The company also provides work to 12,890 vendors, 90 percent of which are local and 10 percent are foreign. This work specifically meets Sustainable Development Goal 8, which aims to improve decent work and economic growth.
Other Sustainable Development Goals are also met through Grupo Terra. The company has a Creating Value Together program that has been developed in Honduras and Nicaragua. This program has 46 subject matter expert vendors participating in training sessions to improve their competitivity and growth.
The company's Safe Home program has completed 33,784 home improvements, supporting 244 families. In addition, Grupo Terra is concerned about its environmental impact. More than 1.6 million trees have been reforested with volunteers and the Watersheds Reforestation program, and 3.9 million tons of CO2 have been avoided, through renewable energy projects.
Further, Grupo Terra contributes to quality education through the company's foundation, helping 186,620 participants in their different educational programs. These include tutoring scholarships, primary centers, follow-up to excellence, and excellence scholarships, among others. These educational initiatives effect youth and families in Honduras, Guatemala, El Salvador, Nicaragua and Panama.
Grupo Terra will continue focusing their initiatives and investments on social responsibility and sustainability and its commitment to continuous improvements in any location they operate. For more information, visit Grupo Terra's website.
About Grupo Terra
Started in 1978 as a small family construction company, today Grupo Terra has investment in four strategic areas including energy generation, supply and distribution of petroleum products, airport infrastructure, and real estate. The company generates more than 18,000 direct and indirect jobs in nine Latin American countries. For more information, visit Grupo Terra's website.
Source: Grupo Terra
Share:
---
Categories: Corporate Social Responsibility
Tags: Alliance for Corporate Social Responsibility, CEMEFI, Fredy Nasser, Grupo Terra Honduras, Honduras, Mexico, Social Responsibility, The Mexican Center for Philanthropy
---