Gridraw Improves the Speed of Drawing UML
Gridraw, the lightweight UML editor, has been updated. The addition of 42 key assignments significantly improves its performance and ease of use.
Press Release
-
Jul 8, 2016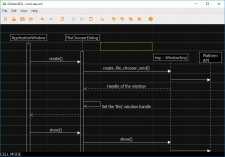 Tochigi, Japan, July 8, 2016 (Newswire.com) - Gridraw Inc. has updated Gridraw, the UML drawing tool that features innovative usability and lightweight performance. Forty-two new key assignments conforming to vi/vim, the text editor favored by many programmers, have been added, allowing for faster UML drawing. This PC software for Windows can be downloaded from our web site.
Gridraw is a lightweight UML editor adopting an innovative new UI. One of its main features is an "all is operable with the keyboard" functionality. The new release significantly enhances this functionality. Gridraw's original operability was similar to that of vi/vim, one of the common text editors available to programmers. In this new release, Gridraw adds 42 new key assignments to markedly improve operability. These additional key assignments allow the user to draw UML far more efficiently.
A list of the additional key assignments can be seen here.
What is Gridraw
Engineers often feel that designing software is a troublesome task. This sentiment is reinforced by a belief – arising from the notion of an agile process – that what is most important is the runnable (executable) artifact. This erroneous interpretation of what is meant by an "agile" process mistakenly relegates design to a secondary, less important level. In response, Gridraw offers engineers comfortable usability, challenging the notion that software design is a burdensome chore. Gridraw improves the quality and speed of design and enables the user to quickly visualize the design, even in a pressurized environment requiring agile development. It enables sharing, consensus building, and verification of the design, enhancing the overall quality of the product.
In order to maximize usability, Gridraw has adopted an innovative new UI, using a cell system similar to a spreadsheet. We provide a comfortable design tool featuring a real-time automatic layout capability, full operability from the keyboard, and a system that is simple and lightweight.
Source: https://gridraw.com/site/en/2016-07-05-pr.html
Share:
---
Categories: Computer Software, Programming, Information Technology
Tags: diagram, drawing, editor, software design, tool, UML
---