Greenroots Nutrition President to Join Board of Advisors
Everglades University welcomes a health and wellness entrepreneur to serve in its advisory board
Press Release
-
Jun 22, 2016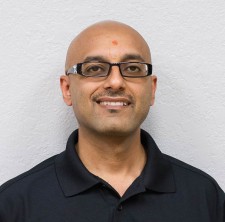 Tampa, Florida, June 22, 2016 (Newswire.com) - Greenroots Nutrition President has been appointed to serve on the Everglades University Alternative Medicine Advisory Board.
Also known as the Program Advisory Committee (PAC), Kamlesh Darji has received official notification to join the board of advisors.
"I am extremely thrilled to serve on the advisory board for Everglades University. This role allows members to give input into course formulation and to make sure that it is relevant and applicable to today's world." Says Kamlesh Darji, Greenroots Nutrition President.
This will be a great platform for Kamlesh to provide valuable information and to showcase what Greenroots Nutrition has to offer to the community.
Greenroots Nutrition is a wellness café concept with healthy menus and wellness solutions.
The mission of Everglades University is to provide quality education to adult learners of diverse backgrounds in a collaborative environment where each individual has the opportunity to achieve personal growth.
####
ABOUT GREENROOTS NUTRITION
Greenroots Nutrition is a wellness café concept with healthy menus and wellness solutions. GRN also stocks a wide variety of vitamins, minerals, herbs and sports nutrition products for the beginner or the seasoned athlete. There are now two locations in Florida. Greenroots Nutrition studies the demographics, and ensures that our store has up to date products that will best serve your community. If you don't see a product at your location, let us know and we can place a custom order for you! For more: http://www.grnstore.com ​
https://www.instagram.com/thegreenrootscafe
http://www.facebook.com/GreenRootsNutri 
http://www.twitter.com/GreenrootsNutri
Source: Greenroots Nutrition (GRN)
Share:
---
Categories: Alternative Medicine, Nutrition, Educational News
Tags: Advisory, Appointment, Education, Fitness, Leadership, Nutrition
---