Greenroots Nutrition Announces New President to Lead Operations
Health and wellness company strengthens its business capacity as it steadily grows in Florida.
Press Release
-
Jun 17, 2016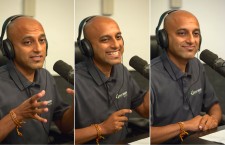 Tampa, Florida, June 17, 2016 (Newswire.com) - Greenroots Nutrition (GRN) today announced the appointment of its new President Kamlesh C. Darji.
Under his leadership, Greenroots will build a stronger foothold in the wellness space with its core focus on optimizing wellness through nutrition.
Kamlesh will serve as the focal point for the company's operations, branding, growth and strategic alliances.
"I am an enormous wellness advocate and its an honor and privilege to lead such a wonderful company." Says Kamlesh Darji.
"I plan to build Greenroots Nutrition's national footprint and subsequently expand the brand globally. He adds.
Kamlesh who has been a health and wellness entrepreneur, will be responsible for strengthening the team at Greenroots Nutrition by identifying core values and quality drivers that will expand this brand.
"Greenroots Nutrition encourages its customers to watch this space because the real fresh fruit smoothie is about to hit your taste buds in a big way." Kamlesh states.
With over two decades of experience in strategic development, Kamlesh has lead the formulation, implementation and comprehensive support to business areas, including marketing efforts, trade show messaging and branding initiatives.
Kamlesh's background and skills are a true asset to Greenroots Nutrition as he envisions to develop solutions to complex problems and ensure solutions are consistent with the company's objectives and goals.
####
ABOUT GREENROOTS NUTRITION
Greenroots Nutrition is a wellness café concept with healthy menus and wellness solutions. GRN also stocks a wide variety of vitamins, minerals, herbs and sports nutrition products for the beginner or the seasoned athlete. There are now two locations in Florida. Greenroots Nutrition studies the demographics, and ensures that our store has up to date products that will best serve your community. If you don't see a product at your location, let us know and we can place a custom order for you! For more: http://www.grnstore.com
https://www.instagram.com/thegreenrootscafe
http://www.facebook.com/GreenRootsNutri 
http://www.twitter.com/GreenrootsNutri
Source: Greenroots Nutrition (GRN)
Share:
---
Categories: Healthcare, Nutrition, Business News
Tags: Appointment, Fitness, Health, Healthy, Leadership, Nutrition, Operations, President, smoothies, workout, wraps
---