Greenroots Café Opens in Orlando, Florida
Florida's newest health and smoothie restaurant is launched
Press Release
-
Jun 14, 2016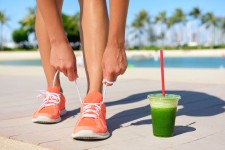 Orlando, Florida, June 14, 2016 (Newswire.com) - Greenroots Nutrition (GRN) expands into Orlando, Florida with a new innovative concept.
Workout programs just got better as Greenroots Café' is opening its first in-store concept within LA Fitness on June 15, 2016 located at 12700 Orange Blossom Trail, Orlando, FL 32837.
Greenroots Café, is Florida's newest health and smoothie restaurant/bar. The café serves a whole range of fresh fruit smoothies and a range of mouthwatering easy preparation items such as salads and wraps.
Each smoothie provides at least 25 grams of protein deliciously blended with whey or soy protein to help tone muscles, get lean or amp up energy. 
Greenroots Café is excited to pilot this new in-store concept and is inviting customers to come and flex their taste buds and taste the difference. 
"Situated in a fitness gym, with a captive audience already interested in fitness and nutrition, Greenroots Café is ready to provide pre-workout or post-workout needs and encourage customers to put that gym membership to good use." States Kamlesh Darji, Greenroots Nutrition President.
"Our smoothies are crafted with real fruit so junk or syrups are a huge no no." Says Kenyah Rucker, GRN Operations Manager.
Greenroots Café customers are welcome to build their own smoothies with fresh fruits. Customers will also soon be able to place orders on line at: http://www.greenrootscafe.com
Two additional stores providing food will be opening soon in Tampa, Florida. One on Kennedy Blvd near the University of Tampa and the second on Channelside by the Tampa Florida Aquarium.
Greenroots Café is not affiliated with LA Fitness or its companies.
####
ABOUT GREENROOTS NUTRITION
Greenroots Nutrition is a wellness café concept with healthy menus and wellness solutions. GRN also stocks a wide variety of vitamins, minerals, herbs and sports nutrition products for the beginner or the seasoned athlete. There are now two locations in Florida. Greenroots Nutrition studies the demographics, and ensures that our store has up to date products that will best serve your community. If you don't see a product at your location, let us know and we can place a custom order for you! For more: http://www.grnstore.com
https://www.instagram.com/thegreenrootscafe  
http://www.facebook.com/GreenRootsNutri 
http://www.twitter.com/GreenrootsNutri
Source: Greenroots Nutrition (GRN)
Share:
---
Categories: Active and Healthy Living, Exercise and Physical Fitness, Nutrition
Tags: Fitness, Health, Healthy Transition, Nutrition, smoothies, Vitamins, workout, wraps
---