Great Tobacco Substitute: Genmist by Nioo Labs - the Most Popular Herbal Heatsticks in Europe by Customer Review
Press Release
•
updated: Sep 15, 2021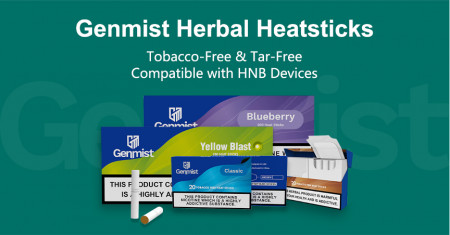 BEIJING, September 15, 2021 (Newswire.com) - Genmist currently has eight different herbal heatstick flavors and is selling around the whole of Europe. According to 500 local customers' sample feedbacks, Genmist is the most popular herbal smoking product in Europe, especially the blueberry flavor.
Genmist herbal heatstick was developed by Nioo Labs, the world's leading research lab which is devoted to innovating the latest 100% tobacco-free products. Genmist herbal heatsticks are tobacco-free and tar-free. It is an alternative for adult smokers who intend to quit tobacco but still want to enjoy the real tobacco taste and nicotine hit as well as the satisfaction of smoking without the smoke or ash of cigarettes. It is composed of a mixture of various herbs and other plant materials.
Genmist heatstick is a heat (not burn) product, consisting of Gen particles (the company's herbal particles), filter tip and food-grade silicon cooler, wrapped with food-grade paper.
Genmist by Nioo Labs has launched two products lines: Nicotine Pouches and Herbal Heatsticks. Genmist nicotine pouches have been named the Top 3 best nicotine pouches in 2021 by BreezyScroll. Genmist by Nioo Labs is backed by Hangsen International Group. This cooperation is based on the consensus that both companies believe that 100% tobacco-free is the future.
With the help of Hangsen, Genmist products will expand rapidly through Hangsen's sales channel around the world and the manufacturing capacity will not become a concern.

Source: Genmist