Gopackup Just Launched 6 of the World's Most Wonderful & Weird Tours
Press Release
•
updated: Sep 18, 2017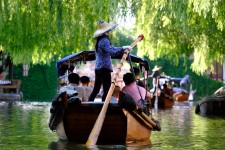 SANTA CLARA, California, September 18, 2017 (Newswire.com) - The world is beautiful because of all its differences: different people, different cultures, different religions, different foods and lifestyles, different colors. The more one travels; the more beauty, one will discover. This has always been the mission that Gopackup holds, by encouraging people to travel to bring more understanding to the world among different people at different places.
Here are 6 of the world's most wonderful and weird experiences:
For more than 70 years, Moscow was the capital of the huge Soviet Empire. The streets of the city are still full of remnants of the communist regime and the Cold War, and the fearsome Soviet strongholds still guard the young democracy in Russia.
Take the Communist Moscow tour to experience this period of history and see the infamous headquarters of KGB on Lubyanka and Moscow Militia on Petrovka, the museum of the Gulag concentration camp system, and other important Soviet sights in the center of the city.
Everyone likes to be different with a unique style and even smell. This interesting workshop in Singapore explores perfume and how one creates and matches a perfume to an individual.
Through this workshop, people can create their own Signature Scent or make a perfect gift for a loved one. Participants will take a personality test and match their ingredients, to make a perfume that matches the best. During this workshop, participants will make 10ml x 3 travel size + 75ml hand polished crystal bottle to take home. The smell will be a reminder of a perfect trip even after being home. Do not miss it!
Parts of Venice are renowned for the beauty of their settings, their architecture, and artwork. The lagoon and a part of the city are listed as a World Heritage Site. Venice has been known as the "City of Water".
During this tour, row the Venetian way, see Venice from the water, experience an ancient tradition, and see Venice off the beaten track. A gondolier is a Venetian boatman who propels a gondola, which has become an important part of Venice scenery. Take a lesson with a professional rower in a regular rowing boat. To actually be able to row the gondola is a unique experience.
Venetian rowing uses a very special technique, which calls to mind the image of a graceful and elegant gondolier. Experience the magic of sitting blissfully on the city's waterways and becoming an active part of Venetian culture.
This tour allows participants to enjoy the beauty of Venice from a different perspective by taking part in the city's age-old traditions, but also participants will be able to build a greater awareness of the Venetian atmosphere and heritage.
Besides Venice, China has several water cities, and Zhouzhuang is one of them. If travelers would like to explore Zhouzhuang, one of China's prettiest water towns, participants will experience a much different lifestyle. Experience a private day trip through this city's historic streets and sinuous bridges before participants ride a rickshaw around Suzhou's historic Pingjiang Road quarter. See what gained this historic city the title 'Venice of the East'.
The Chinese value Zhouzhuang for its cultural heritage, ancient residential buildings, elegant watery views, and colorful local traditions and customs. Enjoy dazzling views of antique stone houses reflected in tranquil waters as participants stroll its historic streets with participants' guide, and capture shots of vistas including the Twin Bridges, Shide and Yongan.
After returning to Suzhou, participants will visit Pingjiang Road, which is beside a narrow canal. Accompanied by a local guide, enjoy a rickshaw tour of the quarter that surrounds it. Participants will pass through a vegetable market, historic streets, and traditional buildings and see locals going about their business as participants' guide explains the role that canals played in Suzhou's history.
The penguins found in Tasmania are the smallest of the penguin species, the noisiest, and also the only penguins with blue and white feathers (all others are black and white). Because of this, they have several names, the Little Penguin, the Blue Penguin, but the most common name they are called is the Fairy Penguin.
Low Head Penguin Tours offer a unique nature experience to get up close and personal with these penguins as they return from the pristine waters of Bass Straight to nest in their burrows within the Low Head Coastal Reserve. This Reserve has the largest penguin rookery in Tasmania, and there are penguins returning every night throughout the year. Watch them swim to the surface, stand up and preen themselves before waddling up the beach.
6. Hilarious Rave Reviewed Drag Queen Comedy Tour
Why travelers love this tour: It is a comedy show, a pub crawl, and a walking tour (parody)! It is hosted by Drag Queen Glace Chase. Some people who attended before claimed that "It's like a cross between 'This American Life' and 'The Rocky Horror Picture Show,' staged as a meandering, somewhat drunken walking tour"; someone also said that it is "One of the most hilarious experiences of my entire life".
Trek the wild Greenwich Village streets with Glace and celebrate the larger than life personalities- both gay and straight- that paved the way for today's liberation. This rave reviewed tour will make participants laughing hysterically one moment and then crying the next in "the most unique tour travelers will ever go on." Meet in a bar for a pre-tour drink and then just...FOLLOW THE SHOE!
Explore more fun and interesting tours/experiences at Gopackup.com
Source: https://gopackup.com/
Related Media
Additional Links