Gopackup Inc. is Innovating the Way People Travel
Press Release
•
updated: Sep 4, 2017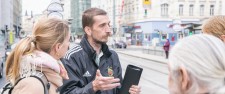 SANTA CLARA, Calif, September 4, 2017 (Newswire.com) - Even with constant communication and knowledge shared through social media, it is difficult for people to see past the surface level of a place when they travel. Gopackup Inc. has discovered a way to solve this issue, by directly connecting travelers to locals. This innovative way of travel is a way to see the real side of a city/town; the way the local people live, the food they eat, the sites they show their friends when they visit from other places.
Now at Gopackup.com, people can book a tour called SHADES TOURS: guided by homeless people. An estimated 10,000 inhabitants of Vienna are considered to live in a feasibility situation, of which 2,000 live on the street. This tour currently on Gopackup's website brings a new way for people to travel while at the same time, helping the homeless.
From now on we see homelessness from another point of view and the best thing about this project is that it helps homeless people to get out of this situation.

Sabine
This tour allows people to discover another side of Vienna that most tourists have never heard of. The Shades Tour allows people to discover the multiple shades of homelessness: the challenges, social services and stories of those who are living and surviving on the street. This tour gives travelers a different perspective of Vienna; to hear the homeless people's stories and what they see when they see Vienna will change how others see that same city. By attending this tour and just paying 15 euro, people can also help the homeless people to reintegrate into society.
This authentic, professional and insightful tour will submerge travelers into a significant hidden and unseen world. During this 2-hour tour, a homeless guide will provide the attending people and/or travelers with a mix of facts and personal stories that illustrated the complexity of homelessness. Go on this unforgettable tour that will show people another side of living in a city.
Such tour provides travelers with an unusual, insightful, informative and emotional experience. Making people discover a different side of Vienna and providing insights into an unseen world, far away from the typical tourist path, helps travelers understand the complexity of homelessness and inform people about how the local social system works. Furthermore, this tour will make a difference for travelers and their guides.
By attending such a tour, travelers get to know more and insight about this city; at the same time, they are also helping these tours guides and give the guides out of homelessness and self-esteem.
Tourism for understanding and helping people to know the beauty of differences are the tours that align with the mission of Gopackup. Silicon Valley companies always believe in changing the world with new innovations, and Gopackup is a proud to be a representative of these companies.
Source: Gopackup Inc.
Related Media
Additional Links