Google AdWords Campaign Costs Cut Up to 50% With Industry First Personalized Customer Journeys
Press Release
-
updated: Apr 19, 2017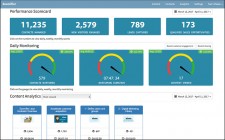 Pleasanton, California, April 19, 2017 (Newswire.com) - ​Zoomifier Inc., providing an industry-first solution that allows an audience to personalize their own customer journeys, today announces how visitors arriving from a Google AdWords campaign are engaging up to 400% more when their websites and landing pages use Zoomifier. Increased engagement is achieved by allowing visitors to self-determine their own customer journeys, which enables them to consume only relevant content that satisfies their unique requirements and interests.
The goal of every digital marketing manager is to capture as many Google AdWords campaign clicks as possible and turn them into viable leads.  Unfortunately, as few as 1 out of 33 visitors actually convert into leads. The problem lies with the "one-size–fits-all" landing web page that is unable to deliver relevant content to satisfy each visitor's unique requirement.
It's a chicken and egg problem in that the marketing managers cannot effectively engage visitors until they know the visitor's identity and visitors are reluctant to engage until they are convinced the offering is relevant and useful to them. The key to solving this conundrum is to enable each visitor to self-determine (personalize) their customer journey so they can consume content that is truly relevant to them. In turn, marketing can then learn from their behavior to recommend increasingly more relevant content.
Zoomifier gently guides a visitor through their self-determined (personalized) journey, capturing detailed insights and thus inspiring them to provide their contact information for further nurturing.
Converting more webpage visitors into leads means marketers require fewer paid clicks, resulting in more leads captured.
"A lot of marketers are pleasantly surprised at how visitors engage when they are empowered to self-determine (personalize) their own customer journeys. Furthermore, it takes hours, not days to enhance your Google AdWords campaigns with Zoomifier," said Chetan Saiya, CEO, Zoomifier Inc.
The greater insights generated from analyzing self-determined customer journeys enable marketers to better engage and nurture leads into qualified sales opportunities.
About:    Zoomifier Personalized Autonomous Customer Engagement (PACE) is a comprehensive cloud-based platform to engage customers across their entire customer life cycle.
Zoomifier provides an innovative solution based on Zoomifier PACE platform to reduce the cost of Omni-channel marketing and rapidly nurture leads into qualified sales opportunities.
Visit www.zoomifier.com.
Copyright © Zoomifier Inc. All rights reserved.
Contact:                    Jeff Kost
                                  Zoomifier Inc.
                                   jeff.kost@zoomifier.com
                                 +1 (925) 621-0324
Source: Zoomifier Corporation
Share:
---
Categories: Marketing, Advertising and Public Relations, Banking, Finance, Insurance, Business to Business, Manufacturing, Saas (Software as Service)
Tags: customer engagement, customer journey, demand generation, digital marketing, Google AdWords, lead capture, lead generation, lead nurturing
---