Global KYC, Compliance and Anti-Fraud Technology Provider 4Stop Launches Phase One of Their Product Enhancement
Press Release
•
updated: Jun 14, 2018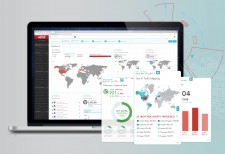 Cologne, Germany, June 14, 2018 (Newswire.com) - 4Stop ("FourStop GmbH") announces that it has completed the first phase of their product enhancement which encompasses a redesign of their platform's dashboard to provide enriched monitoring, reporting and analytic features with optimal user experience engagement design.
As 4Stop is founded by individuals with collectively over 60 years' experience in the risk management industry, they understand the pain point of truly managing risk with multiple touchpoints, moving parts, volume, etc. It is through this that they established the all-in-one 4Stop solution to provide a single integration that supports KYC, compliance and anti-fraud with a centralized view of risk. Now that their technology has met their foundation benchmark to solve the risk market pain points they are focused on enhancing their proprietary technology further with more leading-edge features and a user experience that will revolutionise the methods in which risk managers and operations teams implement their anti-fraud and compliance processes.
The first release of their product enhancement focused on excelling their dashboard and overall filtering capabilities with a wide spread of new functionality and user experience. Optimising and improving efficiencies at detecting risk and reviewing, digesting and monitoring indepth data output for faster reaction times and understanding of overall performance output.
The newly designed dashboard provides 4Stop clients with a detailed overall data risk analysis reporting widget to quickly and easily understand volumes in conjunction with risk indications at all touchpoints in their customer journey including; sign-ups, logins, account updates, and transactions. Coupled with the ability to view their risk analysis filtered by merchant, sub-merchant, processing channel, global scale or drilled down to a particular country. Within seconds they are able to view the who, what and where on their risk exposure and rectify it in minutes.
The dashboard is fully customisable and clients can easily activate new widgets in their dashboard by selecting from the hundreds of widgets categorized by payment, registration, data sources and merchant activity types established, all through a simple one-click on / off functionality. Each user can organize their dashboard to their operations and monitoring preferences by moving and placing widgets in their grouping and/or hierarchy manner within their dashboard screen.
Additionally, the redesigned dashboard was engineered with a focus on improving the overall user experience and optimizing the ease to drill down data output. Through the systems new advanced main filters functionality, clients can filter by date range, merchant level, countries, payment methods and processing channels with the ability to save filter selections for quick access in following filter use case scenarios. Each widget has the capability to apply further filtering by date and to create a secondary filter date range tabs within the same widget to effortlessly toggle and cross-compare data output results.
4Stop has been built to not only fully support todays KYC, compliance and anti-fraud processes but for 2020 and beyond. 4Stop continually evolves their technology and in the coming year they are developing further product feature enhancements to expand their proprietary anti-fraud technology including; advanced analytics and analytic data reporting output, behaviour and machine learning, advanced account association with premium logic to dramatically reduce chargebacks to expanding their KYC data source hub. All layered with the primary focus of transforming their robust feature-rich technology to encompass the best, most simple user experience possible to drive efficiencies for risk management.
For more information please visit 4Stop at https://www.4stop.com
Media contact: marketing@4stop.com
Source: FourStop GmbH
Additional Links