GetResponse Wins 'Best B2B Email Marketing Solution' in 2021 MarTech Breakthrough Awards Program
Press Release
•
updated: Aug 17, 2021
The International Annual Awards Program Recognizes Standout Marketing, Advertising, and Sales Technology Around the World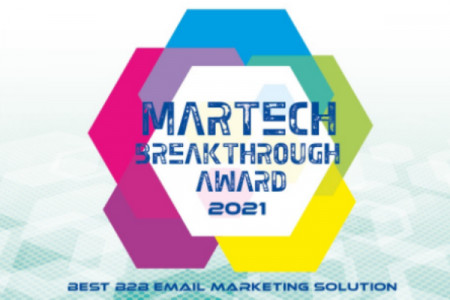 GDAŃSK, Poland, August 17, 2021 (Newswire.com) - GetResponse, a complete online marketing software, announces that it received the "Best B2B Email Marketing Solution" award in the fourth annual MarTech Breakthrough Awards. The program is conducted by MarTech Breakthrough, a leading market intelligence organization. MarTech recognizes the top companies, technologies, and products in the global marketing, sales, and advertising technology industry today.
GetResponse's email marketing software - one of over 30 tools within the platform - provides professional email templates, easy design tools, and proven deliverability to businesses of all sizes. The most powerful part of GetResponse's platform is its functionality. It simplifies the more complex aspects of email marketing. It also gives access to other tools like a website builder, landing page builder, conversion funnels builder, Facebook, Google Ads, live chats, SMS, and a webinar solution. Having these tools under one roof makes running successful email marketing campaigns without switching between platforms easier.
"For organizations that want to implement effective, high-impact campaigns that drive marketing ROI, GetResponse email marketing and online campaign management platform is a 'breakthrough' solution," said James Johnson, Managing Director at MarTech Breakthrough. "The platform helps entrepreneurs and businesses build better-targeted subscriber lists and send high-impact newsletters, video emails, follow-up campaigns and more. GetResponse is one of the best email marketing services out there, with powerful simplicity to deliver real-world results. Congratulations to the entire GetResponse team on being our breakthrough choice for the 'Best B2B Email Marketing Solution' award."
The mission of the MarTech Breakthrough Awards is to honor excellence and recognize the innovation, hard work and success in a range of marketing, sales and advertising technology-related categories. Those include marketing automation, market research and customer experience, AdTech, SalesTech, marketing analytics, content and social marketing, mobile marketing and many more. This year's program attracted more than 2,850 nominations from over 17 different countries throughout the world.
Simon Grabowski, CEO and Founder of GetResponse, expresses his gratitude for the Breakthrough Award. "GetResponse was started in 1998 and grew from a need that I actually had. I was running a small business and needed a better way to send emails. As the world of marketing has evolved, GetResponse has continued to do the same, meeting the demands of people who need real, simple, and powerful solutions. A big thank-you to MarTech for this incredible industry recognition."
About GetResponse
Founded in 1997, GetResponse, a complete online marketing platform, has over 20 years of experience empowering businesses to garner tangible results. Along with 24/7 customer support available in eight languages, GetResponse features over 30 tools: email marketing, website builder, conversion funnel, marketing automation, live chats, webinars, paid ads, and more.
About MarTech Breakthrough
Part of Tech Breakthrough, a leading market intelligence and recognition platform for global technology innovation and leadership, the MarTech Breakthrough Awards program is devoted to honoring excellence in marketing, ad and sales technology companies, products, and people. The MarTech Breakthrough Awards provide a platform for public recognition around the achievements of breakthrough marketing technology companies and products in categories including marketing automation, AdTech, SalesTech, marketing analytics, CRM, content and social marketing, website, SEM, mobile marketing, and more.
CONTACT
Name: Taylor Ceseña
Telephone: 617-999-3454
Email: taylor.cesena@getresponse.com
Links:
Source: GetResponse