GetResponse Launches AI-Driven Website Builder
Press Release
•
updated: May 26, 2021
This code-free website builder provides ready-to-use templates alongside a complete suite of online marketing tools.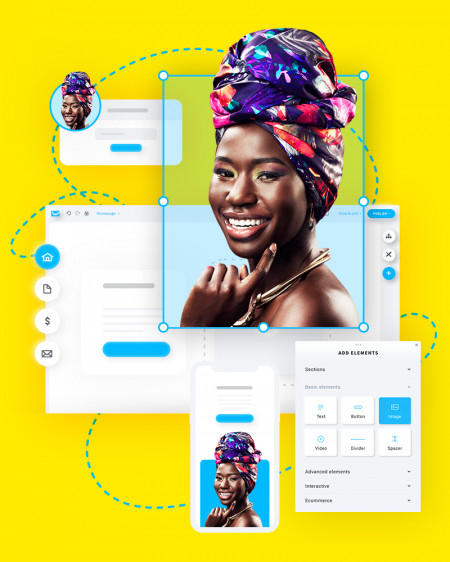 GDAŃSK, Poland, May 26, 2021 (Newswire.com) - GetResponse, a complete online marketing software, announces the launch of Website Builder. Using advanced artificial intelligence (AI) technology, this tool effectively designs complex and eye-catching websites for businesses of all sizes. There's no need for coding or web developers and programmers, democratizing the web development industry.
The launch of this new feature comes during the rise of the no-code movement, which is exponentially changing the landscape of the tech industry. With Website Builder, GetResponse aims to empower users to quickly move their business online and scale their companies without writing any code or HTML, saving both time and money.
"Creating websites does not need to be an expensive and time-consuming undertaking. Unorganized and messy code that once jeopardized a website's functionality and search rankings is now easily resolved with this AI-driven website builder," said Simon Grabowski, CEO and Founder of GetResponse. "This new feature learns and evolves at the same pace as your business and allows for easy changes without the risk of breaking your page or fixing code."
TWEET THIS: Complete online marketing software @GetResponse adds AI-driven #WebsiteBuilder to their existing marketing ecosystem - which currently includes over 30 integrated features. https://bit.ly/WebsiteBuilderGetResponse http://bit.ly/SeeWebsiteBuilder
At present, GetResponse's Website Builder offers two unique pathways to building a completely customized website:
Preselected templates with layouts, styles, and fonts suited for specific categories and services, which can be customized using the slick drag-and-drop editor.
AI Wizard generates three personalized web pages immediately after users answer specific questions about their industry, company, preferences, and color scheme.
As the world of online shopping and marketing has evolved, GetResponse has continued to do the same, transforming the platform beyond its core email marketing features to meet the demands of people who need real, simple, and powerful solutions. With Website Builder, business owners can run and automate marketing campaigns within GetResponse, as well as build and grow their online presence from scratch.
For more information about Website Builder and to start a free trial, please visit getresponse.com.
About the company
Founded in 1997, GetResponse, a complete online marketing platform, has over 20 years of experience empowering businesses to garner tangible results. Along with 24/7 customer support available in eight languages, GetResponse features over 30 tools, including email marketing, website builder, conversion funnel, marketing automation, live chats, webinars, paid ads, and more. For more information about GetResponse, visit getresponse.com.
CONTACT
Name: Taylor Ceseña
Telephone: 617-999-3454
Email: taylor.cesena@getresponse.com
Links:
Source: GetResponse
Related Media