Gerard Adams Tapped to Host Startup Grind - Newark
Press Release
•
updated: Apr 20, 2017
Gerard Adams, Millennial Mentor and FOWNDERS and Elite Daily founder to host the leading startup community outpost powered by Google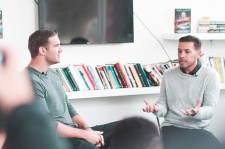 Newark, NJ, April 20, 2017 (Newswire.com) - ​​Gerard Adams, the founder of entrepreneur accelerator, FOWNDERS, and the founder of "Voice of Generation Y" publication Elite Daily, was selected to lead Startup Grind's Newark chapter, powered by Google, starting in 2017. Startup Grind is the largest global entrepreneurship community with chapters in 98 countries. It's Newark chapter, to be lead by Adams, will connect Newark--dubbed "Silicon City"--with Startup Grind's entrepreneur empire.
"Newark has had much momentum in the tech and entrepreneurship, making this launch very exciting," says FOWNDERS CEO Stephen Bienko. The cornerstone of Startup Grind community feature monthly events with successful local founders, innovators, educators and investors who share lessons learned on the road to building great companies. Its mission perfectly aligns with that of Newark chapter lead director, Gerard Adams, who empowers and educates entrepreneurs through FOWNDERS.
To date, Startup Grind has helped millions of entrepreneurs find mentors, connect to partners and hires, pursue funding, and reach new users. The launch of Newark's first Startup Grind event will be held Friday, April 21st at FOWNDERS HQ from 6:00 to 8:00 pm. The classic fireside chat dynamic will be between Gerard Adams and co-founder of LSTN, Joe Huff.
Named to Magic Johnson's 32 Under 32 list in 2016, Adams cofounded and exited digital publication Elite Daily for $50 million in 2015. On return to his home town in the Newark, New Jersey area, Adams founded FOWNDERS as a entrepreneur accelerator to further Northern New Jersey's growth in technology, media and entrepreneurship. "It was natural for me to want to help the community that helped me get where I am," says Adams who grew up in nearby Belleville, New Jersey.
In 2016 after building FOWNDERS' infrastructure Adams gave his TEDx talk at New Jersey Institute of Technology. In his talk, Adams explained that FOWNDERS' mission is to give back to the community by lifting entrepreneurs with resources once thought unimaginable.
Regarding his role with Startup Grind, Adams said: "Startup Grind is an amazing community and an extension of the work we're doing with our startup entrepreneurs at FOWNDERS." He added: "In collaboration with the city's efforts and other community leaders, Startup Grind is one next step in Newark's growth as a technology hub." In 2016, Newark mayor Ras Baraka invited Adams to the ribbon-cutting ceremony for Newark Fiber, which boasted some of the fastest internet connectivity speeds nationally.
ABOUT GERARD ADAMS
Gerard Adams, widely known as the "Millennial Mentor", is a leading thought leader, serial entrepreneur, angel investor and philanthropist. Adams is the co-founder of Elite Daily, the top news platform for Generation Y and the CEO and founder of FOWNDERS, a social entrepreneurship start-up accelerator. He is the winner of Magic Johnson's 32 Under 32 Award and was listed by Business Insider among the top-100 Most Influential People in Silicon Alley. Featured in Success Magazine, Huffington Post, Inc. Magazine, Men's Health and Forbes, Gerard Adams overcame early adversity to become a self-made millionaire by the age of 24. He has built, backed or invested in twelve businesses across multiple industries that have all delivered over seven-figures including the sale of Elite Daily to Daily Mail for $50 million. While he continues his role as an investor and influencer, his mission in life is to mentor and inspire young entrepreneurs to develop what it takes to be successful and to turn their dreams into reality.
Adams leverages his expertise in millennial branding across industries from digital media to technology to fashion. He is a go-to investor for New York City and New Jersey real estate. Passionate about giving back to his community, Gerard helped develop affordable housing for communities in Newark, NJ.
PR contact:
Jordan French
Jordan@notabilitypartners.com
Source: FOWNDERS
Tags
Additional Links