FOWNDERS Social Impact Startup Accelerator Adds Stephen Bienko as CEO
Press Release
•
updated: Feb 24, 2017
Bienko, entrepreneur, was Olympic gold medalist trainer and founded Institute of Athletic Performance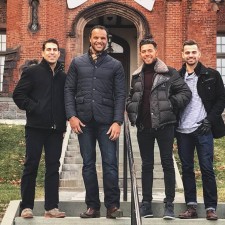 Newark, NJ, February 24, 2017 (Newswire.com) - FOWNDERS, the social-impact startup accelerator founded by Millennial Mentor Gerard Adams added Stephen Bienko as its CEO starting January 2017. Bienko--a serial entrepreneur with strong ties to performance athletics--built and backed multiple businesses and trained Olympic athletes. Bienko also held Villanova University's discus throw record from 1998 to 2005.
FOWNDERS graduated its first class of entrepreneurs that included Arize, SanoMind, Slingshot VR, Blastchat, Youii, HypeLite, Leave Normal Behind and Oskie with over $500,000 in seed funding raised. FOWNDERS also added to its leadership team Toby Dattolo, Brian Ragone, Brian Donovan, Mustafa Almuradi and Monica Adams.
Gerard Adams, FOWNDERS' founder and CVO made headlines in 2016 with a TEDx talk at New Jersey Institute of Technology that featured FOWNDERS' mission. The FOWNDERS' team also represented thoroughly at Newark, New Jersey's Fiber ribbon-cutting ceremony with Mayor Ras Baraka that staked Newark's claim as having the highest speed commercially available internet east of the Mississippi. Adams said: "2016 was foundational with culture building, team building and collaborations with NJIT and Medina's =Space incubator. Newark's future looks bright and Stephen Bienko's addition to the team as CEO signals that we're ready for growth in 2017." Bienko is formerly the largest franchisee of the College Hunks Hauling Junk and Moving brand with offices in New Jersey, Tennessee, Ohio and Florida.
Bienko said of his appointment as CEO that "I'm thrilled to serve such a fantastic team and work alongside one of the most visionary and inspirational Millennials." Gerard Adams, FOWNDERS's CVO, was a millionaire before age 24 and cofounded and sold "Voice of Generation Y" publication Elite Daily for $50 million in 2015. His team has the Leaders Create Leaders YouTube series and a major network-television show on entrepreneurship in the works.
ABOUT FOWNDERS
FOWNDERS is the Newark, New Jersey-based social-impact start up accelerator that advances entrepreneurship, technology and innovation in urban communities. It facilitates economic development through Business Acceleration--a 12-week immersive curriculum--and personal development and civic improvement initiatives. Pioneering a new type of social enterprise FOWNDERS provides lasting impact on our world by allowing others to align passion with purpose and take action on making their dreams a reality.
Media contact:
Jordan French
jordan@FOWNDERS.com
(512) 905-3003
Source: FOWNDERS
Tags
Additional Links