Gerard Adams, Millennial Mentor Named to Magic Johnson's 32 Under 32
Press Release
•
Sep 27, 2016
Millennial Mentor Gerard Adams wins Magic Johnson's inaugural 32 Under 32 list of influential persons making a difference.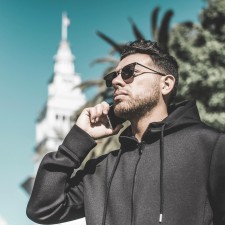 New York, NY, September 27, 2016 (Newswire.com) - ​Gerard Adams, the co-founder of Elite Daily and founder and CEO of social-entrepreneurship venture, FOWNders, was named to Earvin "Magic" Johnson's The Playbook: 32 Under 32 Business and Leadership List. Magic Johnson started the 32 Under 32 to recognize and highlight individuals who exhibit the professionalism, hard work, values and talents to lead the reimagining of possibilities for tomorrow's business culture. With a broad and diverse range of personal backgrounds, these change makers of the future have made noteworthy achievements in various fields ranging from education, community service and healthcare, to technology, sports, entertainment and business leadership.
Gerard Adams has built, backed, or invested in over one dozen businesses across multiple industries including the sale of Elite Daily to the Daily Mail for $50 million in 2015. He overcame adversity at an early age to become a millionaire by age 24. In 2016 Adams founded and serves as CEO to FOWNders the social-impact accelerator serving entrepreneurs nationally.
In a profile of Adams in Magic Johnson's Playbook, Adams had Tony Robbins to thank and quoted Robbins for saying, "Success without fulfillment is the ultimate failure." On launching social entrepreneurship venture, FOWNders, Adams said it, "occurred to me that there just aren't the same opportunities in urban communities like Newark where my family grew up, as there are in places like NYC, Silicon Valley and Chicago."
Regarding the 32 Under 32 Award, Adams said, "I'm honored and humbled to be recognized by Magic Johnson for exhibiting the ideals, hard work and leadership that earned the award. He was a personal inspiration of mine when I was growing up." He added, "It is my passion to mentor the entrepreneurs at FOWNders here in Newark, New Jersey and build what others thought was impossible."
ABOUT GERARD ADAMS
Gerard Adams, widely known as the "Millennial Mentor", is a leading thought leader, serial entrepreneur, angel investor and philanthropist. Adams is the co-founder of Elite Daily, the top news platform for Generation Y and the CEO and founder of FOWNders, a social entrepreneurship start-up accelerator. He is the winner of Magic Johnson's 32 Under 32 Award and was listed by Business Insider among the top-100 Most Influential People in Silicon Alley. Featured in Success Magazine, Huffington Post, Inc. Magazine, Men's Health and Forbes, Gerard Adams overcame early adversity to become a self-made millionaire by the age of 24. He has built, backed or invested in twelve businesses across multiple industries that have all delivered over seven-figures including the sale of Elite Daily to Daily Mail for $50 million. While he continues his role as an investor and influencer, his mission in life is to mentor and inspire young entrepreneurs to develop what it takes to be successful and to turn dreams into reality.
Adams leverages his expertise in millennial branding across industries from digital media to technology to fashion. He is a go-to investor for New York City and New Jersey real estate and developments. Passionate about giving back to his community, Gerard helped develop affordable housing for communities in Newark, NJ.
Media Contact
Jordan French, Partner & COO
jordan@FOWNders.com
(512) 905-3003
Source: FOWNders, Inc.