Genius Kids Accelerates Expansion, Purchases New Building in Fremont, CA With $2M SBA 504 Loan From Capital Access Group
"A building that generates revenue is the best investment one can make." -- Rennu Dhillon, President and Founder, Genius Kids
Press Release
-
updated: Jan 15, 2019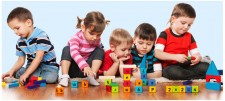 SAN FRANCISCO, January 15, 2019 (Newswire.com) - Capital Access Group (www.capitalaccess.com), a commercial real estate lender specializing in U.S. Small Business Administration 504 loans for growing businesses, recently helped Rennu Dhillon, president and founder of Genius Kids, to secure $2 million in total project financing through the SBA 504 commercial real estate loan program to purchase a 2,713-square-foot building located at 2220 Peralta Boulevard in Fremont, CA.
Genius Kids is an award-winning, accelerated learning center and franchise that focuses on providing children with the communication, confidence, and leadership skills that are essential for success in life. The Genius Kids curriculum, developed by company founder Rennu Dhillon, motivates and challenges children to learn in a teaching environment free from anxiety and pressure. Genius Kids offers three types of franchise business models, including infant centers for children under two, preschools for kids age two to six, and after school centers for age six to twelve.
Dhillon's approach to early learning is making an impression with parents and kids throughout the San Francisco Bay Area, as evidenced by the company's strong, steady growth in the region. The original Genius Kids learning center, opened in 2001, has expanded to a total of eight schools operated by Genius Kids, Inc. Genius Kids Development, which runs the franchise operation, currently oversees 26 franchise units. The new facility at 2220 Peralta will provide Genius Kids with its own administrative and training facility. The company anticipates launching six to eight new franchises, and adding new hires to support growth over the next two years, and has interest from potential franchisees in New York, New Jersey, Texas, Florida, as well as internationally.
"The building at 2220 Peralta is zoned as an office, which works out perfectly," said Rennu Dhillon, President and Founder, Genius Kids. "We will have a large conference room, a training center, and space for my employees to expand with room to do all curriculum prep and recordings for Miss Rennu Online."
Property ownership is fundamental to Dhillon's business growth strategy, and the SBA 504 loan program, which features low down payment, fixed-rate, and long-term financing, was "very attractive," according to Dhillon.
"I love real estate, and I would prefer to write my mortgage payment to a bank where I'm going to own the building and pay it off in 20 years rather than paying the money to a landlord. A building that generates revenue is the best investment one can make," said Dhillon. "The low monthly payments and low-interest rate really help you, because when you're buying a commercial property and opening a business, it takes time to ramp up."
"What I liked about the whole program is not the program as much as the people—working with the team—they really guide you and advise you. They're setting you up for success," said Dhillon.
"I am so inspired by Rennu's story and her business acumen," said Claudia Cohen, Senior Vice President, Capital Access Group. "Rennu, her husband, Gill, and her daughters, Shana and Sheena, have built an amazing business that is not only helping children gain confidence, but also creating jobs and strengthening the community. We are proud to be part of her team!"
About Capital Access Group: Capital Access Group is a leading statewide Certified Development Company based in San Francisco, authorized by the U.S. Small Business Administration to provide long-term, fixed-rate financing through the SBA 504 loan program, which offers 90% financing to business owners for the purchase, renovation, or construction of commercial real estate for their growing businesses. For over 35 years, Capital Access Group has helped thousands of entrepreneurs grow their businesses and realize their dreams of owning their own buildings. Currently, the SBA 504 interest rate is 4.75%, fully amortized and fixed for 20 years. For more information, please visit www.capitalaccess.com.
Source: Capital Access Group
Share:
---
Categories: Small Business
Tags: 504 loan, Capital Access Group, Genius Kids, loan, Rennu Dhillon, SBA 504, small business, small business finance
---