GE Healthcare Exec to be the Lead Independent Director of Health-Tech Startup, healthio inc.
Dr. Vivek Bhatt joins the Board of Directors of pioneering healthcare technology startup, healthio
Press Release
-
updated: Feb 19, 2018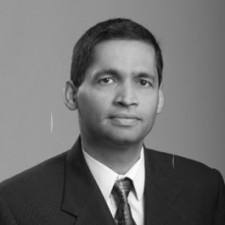 MILWAUKEE, February 19, 2018 (Newswire.com) - healthio inc., a startup that provides an artificial intelligence (AI)-based preventive health platform, announced the addition of Dr. Vivek Bhatt to its Board of Directors. Vivek joins as the Lead Independent Director.
Vivek is the Chief Technology Officer of GE Healthcare, Clinical Care Solutions, and leads the technology strategy for the business. He manages a global engineering team of 1400-plus engineers with accountability for new product engineering, advanced technology development, driving the new mobile and digital health business strategy, and ongoing support of the installed base of products. The Clinical Care Solutions business is a $5B business within GE Healthcare that includes Ultrasound, Patient Monitoring, Anesthesia and Respiratory Care, Maternal Infant Care and Diagnostic Cardiology segments.
Dr. Bhatt is also an advisory board member with The Wallace H. Coulter Department of Biomedical Engineering at Georgia Tech and Emory University. He also serves as a board member with the Wisconsin Technology Council that is the science and technology advisor to the Governor of Wisconsin.
"We are thrilled to have his vision and passion for health-tech as a guide to healthio," said Sanjay Mohan, healthio's CEO. "We believe his strong experience with technology and his global experience in health care will be extremely valuable for healthio to establish the right foundation for growth."
About healthio inc. (www.healthio.care): Health & wellness is what happens during the 360-plus days per year while a person is away from the doctor. healthio empowers individuals to take unprecedented charge of their health management, become smarter about their health-related actions and outcomes, and finally make preventive healthcare a reality.
healthio is a data aggregation and an AI platform. It combines a state-of-the-art health-tracking app and five quality health devices that provide answers to questions about health and wellness. healthio allows a user to connect and share insights with a chosen support network, thereby shifting healthcare management to the user and user's environment and enabling health advocacy via a micro-social network. Overall, healthio leverages machine learning to understand changes in the user's physiology to either predict or prevent negative health outcomes.
Source: healthio inc.
Share:
---
Categories: Healthcare, Healthcare and Medical Informatics, Healthcare Technology, Artificial Intelligence and Expert Systems
Tags: AI in healthcare, artificial intelligence in healthcare, health data aggregation, health tech start-up, health technology start-up, healthio, individual health management, remote patient monitoring, Vivek Bhatt
---