Garam Chai Means American Desis
The World's 1st on-demand Urdu Web Show "Garam Chai" is on. Pre-release activated.
Press Release
-
updated: Sep 19, 2016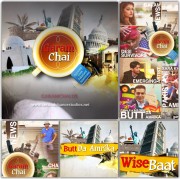 Woodbridge, Virginia, December 20, 2015 (Newswire.com) - Global Crossover and Second Chance Studios are pleased to announce the ​pre-order release of the world's first on-demand Urdu series Garam Chai. GARAMCHAI will take you into the everyday lives of Americans of Pakistani and South Asian descent.
What is an American Desi? Who are they? What do they do? Are they any different from anyone else in America or around the world? Meet real people who inspire and motivate others to lead positive lives. Watch and experience human-interest stories of survivors and witness how they succeed despite the odds against them. With a powerful lineup of issue-based episodes Garam Chai will also address the myths and the reality about Muslims in America so you can dissect facts from fiction and make informed decisions.
"We are delighted at the fact that finally people will get a chance to see how Americans of Pakistani and South Asian descent, especially those who are also Muslims, are playing a positive role in the American society today" said Founder and President Green America and Second Chance Studios Muhammad Khan.
GARAMCHAI invites you to become a part of an epic journey dedicated to the global desis at large but American Desis in particular as they celebrate a unique kind of a diversity found only in the United States" commented Founder and CEO  Global Crossover Imran Siddiqui. 
Brace the local talent and build the next generation of multi language content creators and media entrepreneurs by supporting LINGOFLIX
Drink up the 1st round of Garam Chai on GARAMCHAI or ​LINGOFLIX.com 
Source: Global Crossover
Share:
---
Categories: Multi-Media, Online Programs, Arts and Entertainment
Tags: garamchai, globalcrossover, lingoflix, multilingual programs, secondchancestudios, south asian americans, urdu online programs
---