Futurist Jack Uldrich Takes on Four States in Four Days
From October 4-October 7 global futurist Jack Uldrich will deliver four keynote speeches in four days and to four different across the U.S.
Press Release
-
Oct 3, 2016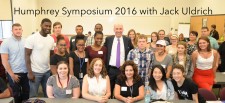 Dallas, TX, October 3, 2016 (Newswire.com) - From the Federal Credit Union Economic Forum 2016 in Dallas, to Ocean Industries in Denver, retail in Atlanta, and energy and utilities in Florida, futurist Jack Uldrich is on the move this week.
Delivering keynotes to such a wide variety of industries in such a short amount of time keep Jack Uldrich on his game as he provides information regarding all the game changing technology coming to each industry. 
Is there crossover when it comes to game changers in each of these sectors?  
"Absolutely," says Uldrich. "But there are also technologies that are unique to each industry as well." The crossover comes, Uldrich explains, particularly in the form of the Internet of Things. "It (the IoT) will impact any and all of the industries and organizations I address. There's no escaping it. By the end of this decade, the prediction is that over 50 billion physical devices will connect to the Internet. That figure could be substantially higher given all the advances that are coming in the next few years."
"Blockchain and Bitcoin will affect the economy and banking, Nanotechnology, and robotics will impact ocean industries. Big Data and cognitive computing will shake up the world of retail, and renewable sources of energy such as wind and solar will undoubtedly change the name of the game when it comes to how utility and power companies operate," says Uldrich.
He has delivered his messages on unlearning, top technology trends and his leadership concept of the "Big AHA," his acronym for Awareness, Humility, and Action on five continents. He speaks over a hundred times a year. Some of his most recent endeavors include a keynote at the NCR Synergy 2016, the Soul Fuel Conference in Sedona, Arizona and the 50th Anniversary Celebration at Genesee Community College in Batavia, New York.
His week begins today with his thought-provoking new keynote, "The Numbers that Matter"  at Catalyst's 2016 Economic Forum in Texas. 
More information on Jack Uldrich and his upcoming events or his speaking availability can be found on his website.
Source: The School of Unlearning
---
Categories: Economy, Credit Unions, Energy, Utilities, Retail, Oceanography
Tags: Economic Forum, Energy, lottery, Ocean Industries, Power South, Retail, state lotteries
---