Fu Wenjun Photography Work at Center for Photographic Art
Press Release
•
updated: Nov 21, 2016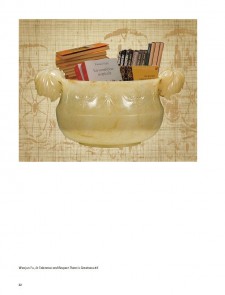 Carmel, California, November 21, 2016 (Newswire.com) - On November 12, the Center for Photographic Art (CPA) was pleased to open the 2016 International Juried Exhibition, which will be lasting until December 23. A photography work of Chinese artist Fu Wenjun, along with other forty-four juror-selected photographs are being exhibited in CPA's historic gallery at Sunset Center in Carmel, California.
This year's juror, Linde B. Lehtinen, PhD., Assistant Curator of Photography, San Francisco Museum of Modern Art, is an art historian specializing in American and European modernism with an emphasis on the history of photography and mass advertising culture. There were over one thousand submissions from around the world and only 45 images were selected for the exhibition.
The selected work of Fu Wenjun, entitled In Tolerance and Respect There is Greatness No.6 represents one photography series created in 2014. In the series, the cups correspond to the Chinese culture, while the Western books represent the Western culture, in which the cups refer to the whole China nowadays. Standing at present, this body of work discusses the issue of future integration and development of the Chinese culture and the Western culture, which is one of the questions Wenjun always explore with his artistic creation.
The artworks of Wenjun, who lives and works in Chongqing (China), tackle strictly cultural issues such as the Eastern and Western history, the heritage of traditional Chinese culture in a rapidly changing society, the relation between different cultures in the age of globalization, industrialization and urbanization in Chinese cities. Although his practice incorporates installation and oil painting, it is the use of conceptual photography that predominantly defines his work.
Through photography and image manipulation, Wenjun has created a channel through which he can truly communicate his vision, using the images to extract the true meaning of a theme and pushing a deeper focus onto it. Having exhibited internationally, Wenjun's artworks have gained numerous awards and have been collected by galleries and museums across the world, such as Tokyo Metropolitan Art Museum, Today Art Museum, Old Summer Palace Museum, Guangdong Museum of Art, Société Nationale des Beaux Arts of France, Egypt Ahmed Shawki Museum. To know more about Fu Wenjun, please visit his website: www.fuwenjun.com.
Source: Fu Wenjun Studio
Related Media