Fu Wenjun Awarded Venice in Art - International Casanova Award
Press Release
•
Sep 22, 2016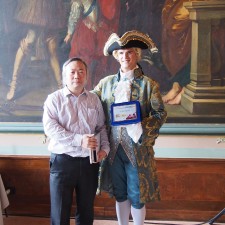 Venice, Italy, September 22, 2016 (Newswire.com) - ​​​​​Fu Wenjun, Chinese contemporary artist, won "Venice in Art - International Casanova Award". On September 17th, the grand awards ceremony was held at Palazzo Flangini, historical building on the riverside of Grand Canal in Venice, Italy.
In the times of Renaissance, the Venetian school artists innovated the use of color in their paintings, which brought the Italian art of painting to a new brilliant height. The artists pushed forward the development of art, but it required great support form art lovers like the Venetian celebrity Giacomo Girolamo Casanova, who lived in the 18th century's prosperous Venice city. He had multiple identities, writer, poet, philosopher and great art lover, with extremely fond of the arts, never stopped in his life.
Fu Wenjun has been engaging in the exploration and the creation of conceptual photography art, who is one of China's most significant artist in this field. His works concentrates mainly on his thinking and reflection of the Eastern and Western history, culture, and various aspects of humanity issues. In addition to the conceptual photography, Wenjun undertakes comprehensive, crossover artistic practices with installation, painting, sculpture, multimedia and other art media to express his artistic thinking.
During the years, he held solo exhibitions at important institutions and art art museums, including the headquarters of United Nations (New York, USA), Guangdong Museum of Art (Guangzhou, China), Today Art Museum (Beijing, China). His works are presented at the 55th Venice Biennale collateral exhibition "Voice of the Unseen - Chinese Independent Art 1979/Today", 1st Asia Biennial/5th Guangzhou Triennial, 18th Bienal de Cerveira and other international significant exhibitions.
For "Venice in Art - International Casanova Award" the awarded work of Fu Wenjun is entitled "Uomo Vitruviano - Beatles", which represents a work inspired by the historically remarkable work of Leonard Da Vinci "Unomo Vitruviano". Wenjun starts his thinking with "golden ratio" and its metaphorical meaning, and tries to express his personal reflection on the complex relationship of human beings, society, and technology in our present era. The conceptual photography, as a powerful artistic form, coordinates with Wenjun to "speak" his cross-cultural, sharply observing concepts and ideas.
"Venice in Art - International Casanova Award" aims to spread the charm of art, inviting more people to love art and their life. The talented outstanding artists from all around create works of art and nourish humans' soul in our age. "Beetles," the conceptual photography work of Fu Wenjun, presents such artistic, cultural and social values.
Source: Fu Wenju Studio
Related Media