Frida Kahlo, the Creator of the 'SELFIE,' Passed Away Over 60 Years Ago, But Her Revolutionary Ideas Still Inspire Millions of Women Worldwide
Press Release
•
updated: Mar 4, 2020
Frida Kahlo Corporation, the company that owns the rights to the Frida Kahlo name, collaborates with Ginarte to create a special-edition bottle honoring the Mexican icon and activist Frida Kahlo, as part of its 'Most Universal and Famous Women in the World' collection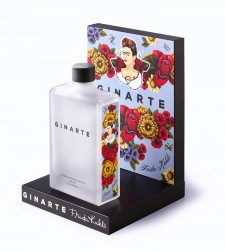 MIAMI, March 4, 2020 (Newswire.com) - ​​Frida Kahlo (July 6, 1907-July 13, 1954) endured a life full of social standards and physical pain which sparked her need to reinvent herself away from her constricting reality. Betrayals, abortions, feminism, rebellion, and a terrible accident that left her in constant pain pushed her to transform her agony into art. She poured her physical pain and societal doctrines into her artistic expression and used her unique folk-art style to investigate questions about gender, identity, class, and race. She is still remembered and acclaimed for her primitive style and symbolism behind her self-portraits.
Frida Kahlo is the most influential artist of Latin American modernism. Today, her personality inspires millions of women all around the world and her message resonates louder than ever. She started the conversation on gender equality and opened the door for millennials to reinvigorate her messages on beauty standards and women empowerment. She proudly defied any beauty standards imposed on her and embraced her indigenous beauty and cultural values.
Carlos Dorado, president of Frida Kahlo Corporation, a company owned by Italcambio Group, stated, "Frida Kahlo, the creator of the 'SELFIE,' passed away over 60 years ago, but her revolutionary ideas still live amongst us. She represents, better than anyone, the empowered women of today. A strong woman, who transcended the barriers of culture, time, and society, and with her unique personality, encouraged the world to think differently."
Ginarte's decision to feature Frida Kahlo on its "Most Universal and Famous Women in the World" series reiterates the modern relevance of her message and the ripples of her influence even half a century later. Ginarte focused on developing a purposeful and high-quality product that remains genuine to Frida Kahlo's history, emotions, and beliefs. The result is an astonishingly delicate handmade gin made from wild berries, capio corn, lavender, hibiscus, and "Apennines" pines from a Tuscan region in Italy. The solution is subjected to three levels of distillation and filtration to reach a gin that exhibits imposing aromatic qualities full of personality, then placed in an artistic bottle inspired by the talent and character of Frida Kahlo.
The Frida Kahlo Corporation is grateful for the opportunity to spread Frida Kahlo's legacy and is honored to announce the release of Ginarte's Frida Kahlo edition this week in Milan and Rome.
CONTACT: info@latam.media
Source: Frida Kahlo Corporation