Freway Launching Indiegogo Campaign for Latest eBike Product Soon
Press Release
•
Nov 11, 2016
Can You Tame This "Buffalo"?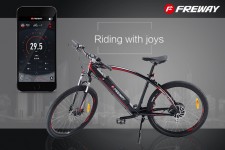 Alhambra, CA, November 11, 2016 (Newswire.com) - ​​​​The Freway team, who raised a successful crowdfunding campaign on Kickstarter last year, announced they will soon be launching another crowdfunding campaign, this time on Indiegogo, for their latest eBike product — Buffalo eBike ​—​ soon.
After countless tests and finalization on the prototype for 6 months, Freway has managed to build a pedal assist ebike with elegant looking and several intelligent functions. There are 3 levels of power assist and it can be switched through the OLED control ring mounted on the handlebar. Driven by a 350watts (550watts at peak) bafang rear motor, kick-in feels like strong and regular from the rear motor.Using FVS (Freway Vigor System) Gen 2 with the 11Ah Panasonic battery, Buffalo can easily cover around 50 miles of mileage on one single charge. It can speed up to 20mph and give riders a fantastic riding experience they've never had.
Comparing to most of the eBikes on the market, Freway has gone some extra miles and developed a cruise button for the bikers. Instead of using a throttle, they use the cruise button to further enhance the riding experience.Feeling a bit tired after a ride? Freway has that covered. Just pedal a little then press down on the cruise button and the Buffalo will keep going at the current speed without pedaling.
Components of High Quality
Besides the e-benefits, the components of the Buffalo electric bike are of high-quality. The 27.5 inch rims and 19 inch aluminum alloy frame provide riders with good stabilizing performance on the ground. When riders want to exercise they can always switch to sports mode and the shimano M310 8-speed derailleur will help them exercise! Although it's an 8-speed derailleur, it pairs perfectly with the e-benefits of the bike. The tektro draco oil disc brake helps to keep the rider safe. The tires from Kenda combine with front suspension to let the rider ride smoothly on almost any terrain.
Unlike most electric bikes in the market, Buffalo is actually bundled with a smart phone app. It can be connected with the phone through Bluetooth. Using the FCCS (Freway Cycling Cloud System), the Freway Cycling App can easily track the routine , and record and analyze all data (mileage, speed, battery,etc). The app can even check the status of the bike for problems and will keep track of the record after each ride so it can be shared on Facebook, Twitter and other social platforms.
Feel the thrill to be a part of the first group of bikers to experience the Freway Buffalo electric bike. The price for something similar to Buffalo on the market is between $2,200 to $3,000. But Freway is going to give some bonuses on the Indiegogo crowdfunding platform. Just follow them on Facebook to check out the REASONABLE price.
Facebook : https://www.facebook.com/Freway.fans/
Website: www.ifreway.com
Source: Freway
Related Media
Tags