Frere Enterprises on Edge Computing: A Complementary Technology in a Business' Toolkit
Press Release
-
updated: Nov 6, 2018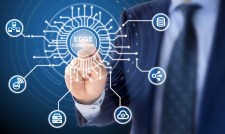 PETALUMA, Calif., November 6, 2018 (Newswire.com) - Cloud computing has changed the way many companies do business and it's estimated nearly nine out of 10 companies will use multiple cloud services by 2021. The cloud market is booming and with its ease of use and ability to allow multiple people to collaborate on documents and projects in real time, it's easy to see why. As the internet of things (IoT) advances, a new type of computing is rising to complement the cloud: edge computing. Frere Enterprises, a company that specializes in the digital transformation of businesses, believes that edge computing will provide companies with increased control over data as well as improved data analysis.
"The development of cloud computing was pretty revolutionary, as is the growing internet of things," said Brandon Frere, CEO of Frere Enterprises. "Edge computing is a natural evolution of both."
The IoT refers to smart devices that can connect to the internet and each other. With edge computing, data is processed within the device itself, rather than being sent to the cloud. This is not a new concept and it's already possible on some devices, however, it's expected to become more commonplace as the IoT grows. It's also anticipated that organizations will eventually be able to turn large amounts of device data into actual actionable artificial intelligence within smart devices.
As edge computing advances and becomes more mainstream, it will transform businesses in several ways. Edge computing will allow for increased security by allowing companies to filter out sensitive information that would have been sent to the cloud and keep it stored locally on devices. Likewise, they'll be able to selectively choose which data gets sent to the cloud. Data latency will be reduced and should provide easier data analysis, particularly for processes that require instantaneous analysis. Edge computing can also allow for legacy devices to connect to the IoT, allowing businesses to save money by not having to invest in new equipment.
"Once it's more widely used, edge computing is sure to have a transformative effect on businesses and the way they process, analyze and store data," said Frere.
About Frere Enterprises
Run by CEO Brandon Frere, Frere Enterprises is a California-based company with a global vision based around the usage of special financial technology, or SpecFinTech, with a current focus on financial wellness and productivity.
He has designed and created multiple companies to meet the ever-demanding needs of businesses and consumers, alike. Frere's website, www.FrereEnterprises.com, is used as a means to communicate many of the lessons, fundamentals and information that he has learned throughout his extensive business and technological endeavors. Through Frere Enterprises, he aims to apply those lessons to other business opportunities.
Frere Enterprises' mission is to acquire traditional businesses and digitally transform them to meet and exceed modern day demand. This mission seeks to transform such businesses by developing the newest and most evolved technologies to speed up the evolution of financial services in order to meet the demands of the modern consumer and exceed the potential of the modern era.
FrereEnterprises.com
Source: Frere Enterprises
Share:
---
Categories: Entrepreneurship
Tags: advancement, cloud computing, edge computing, entrepreneurship, internet of things, small business owner, technology
---