Frere Enterprises: More Time Than Money? Welcome to Entrepreneurship
Press Release
-
updated: Nov 15, 2018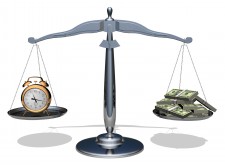 PETALUMA, Calif., November 15, 2018 (Newswire.com) - According to a recent Forbes article, entrepreneurs sacrifice their time and money for the opportunity to create a business. Money is a quantifiable resource, but time is more complex. How much of it can be sacrificed? Time is also sacrificed by an entrepreneur's loved ones and acquaintances. For entrepreneurs that are not wealthy, time may be their largest investment and their business may take every moment that can be carved out of a 24-hour period. In fact, for these business owners, even rent may be more expensive than a fledgling company can stand. Brandon Frere, CEO of Frere Enterprises and other ventures, understands the need to give time when money is harder to come by.
"When launching an enterprise, entrepreneurs might have to give every dollar and moment they have to get the business off the ground," said Frere. "And, when you don't have much money, it seems like you can always find more time to give."
Startup cost and keeping up with ongoing carrying costs are significant obstacles for those who are trying to advance new products and services. For those with limited wealth, it might be beneficial to consider service industries that require limited equipment. Childcare, for example, requires equipment that is relatively inexpensive — and provides steady income. The average family spends $1,385 per month in childcare which, after careful scaling, can become a vital business.
Renting space for a business can be a daunting barrier for first-time entrepreneurs. One way to avoid rent is to build a business that offers to bring services to the work or home of a customer. A business that provides childcare at the home of a client, for example, avoids anxieties about securing and paying for a site. Offering services at a client's home or business can be more convenient for clients, and entrepreneurs will not only have less overhead but can also charge more for the added convenience value that clients receive. Providing food and other consumables to clients at their homes is another possibility for those who have more time than money. Additionally, some technology-centered businesses require limited formal space and may be a great low-cost way to set off on an entrepreneurial path.
Initially, traveling to a limited client base can be easier to manage, both in terms of equipment and ongoing cost. But, as a business grows, entrepreneurs may no longer be able to service individual customers, and can naturally afford to provide space to allow the business to grow.
"Giving your time and resources to a business can be a long and difficult journey, with obstacles and the prospect of failure at every turn," said Frere. "It can also be the most satisfying adventure you ever take. For those with entrepreneurship in their DNA, despite a lack of resources and a wealth of challenges, they will find a way to launch a business and make it grow."
About Frere Enterprises
Run by CEO Brandon Frere, Frere Enterprises is a California-based company with a global vision based around the usage of special financial technology, or SpecFinTech, with a current focus on financial wellness and productivity.
He has designed and created multiple companies to meet the ever-demanding needs of businesses and consumers, alike. Frere's website, www.FrereEnterprises.com, is used as a means to communicate many of the lessons, fundamentals and information that he has learned throughout his extensive business and technological endeavors. Through Frere Enterprises, he aims to apply those lessons to other business opportunities.
Frere Enterprises' mission is to acquire traditional businesses and digitally transform them to meet and exceed modern day demand. This mission seeks to transform such businesses by developing the newest and most evolved technologies to speed up the evolution of financial services in order to meet the demands of the modern consumer and exceed the potential of the modern era.
FrereEnterprises.com
Source: Frere Enterprises
Share:
---
Categories: Entrepreneurship, Business Technology
Tags: entrepreneurship, small business, starting a business, startup, time and money
---