FASTPORT Helps Women in Trucking to Offer Registered Apprenticeships Through Partnership
Press Release
•
Apr 4, 2022
FASTPORT and Women in Trucking announced a historic partnership that will enable the organization to offer registered apprenticeships to their entire organization.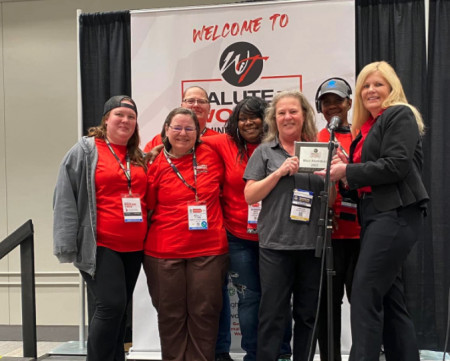 LOUISVILLE, Ky., April 4, 2022 (Newswire.com) - FASTPORT and Women in Trucking announced a historic partnership that will enable the organization to offer registered apprenticeships to their entire organization. By adopting the National Program Standards, FASTPORT can facilitate the development, approval, and implementation process for the entire membership.
"Women in Trucking is one of the most respected organizations in transportation. Adopting the National Program Standards for Registered Apprenticeship will enhance their mission to encourage employment of women in trucking. Recruiting and retention affects every organization, regardless of size. Having a DOL-approved apprenticeship makes each member more competitive, essentially leveling the playing field," said FASTPORT Executive Director of Workforce Development Dave Harrison.
"For over a decade, Women in Trucking has been focused on the clear mission to encourage employment, address obstacles, and celebrate the success of women in our industry. Gender diversity brings new perspectives, fuels greater idea generation, problem solving and innovation, increasing business performance and overall revenue generation. Being able to offer registered apprenticeships to our members will help to move our mission forward," said Ellen Voie, Women in Trucking President & CEO.
"Companies offering Registered Apprenticeship under the National Program Standards are committed to facilitating high-quality training programs to fully prepare this new generation of truck drivers. Now more than ever, women play a vital role in the Transportation Industry, and they have answered the call to eliminate the driver shortage. Apprenticeship provides a solid career pathway for women, ensuring they receive the training and support that lead to success," said FASTPORT's Jamie Pace, Director of Apprenticeship Administration.
During the "Salute to Women Behind the Wheel" event at the Mid-America Truck Show, FASTPORT'S Gena Mullenax, Director of Apprenticeship, shared, "FASTPORT is excited to partner with Women in Trucking to support registered apprenticeship as a preferred career pathway. We are proud to celebrate the accomplishments of the amazing women who keep America moving and look forward to welcoming many more into the industry through our joint effort."
About FASTPORT
FASTPORT, Inc. is a software development company that builds partnerships and digital products to accelerate businesses and launch careers. Our people and technology interact with the most productive veteran hiring initiatives in the United States and have received multiple contracts from the U.S. Air Force Small Business Innovative Research program. FASTPORT is also the U.S. Department of Labor's Industry Intermediary and a part of the Centers of Excellence to support apprenticeship development and sustainability. For more information, visit www.fastport.com or www.nationalapprenticeship.org.
About Women in Trucking
The Women In Trucking Association is a non-profit organization focused on the transportation and logistics industry. Our mission? To encourage the employment of women in the trucking industry, promote their accomplishments and minimize obstacles faced by women working in the trucking industry. For more information, visit womenintrucking.org.
Source: FASTPORT