FASTPORT Assisting Task Force Movement to Help Recruit and Retain Veterans in the Trucking Industry
Press Release
•
May 23, 2022
FASTPORT CEO Bill McLennan will join the new Task Force Movement: Life-Cycle Pathways for Veterans and Military into Trucking as an industry advisor.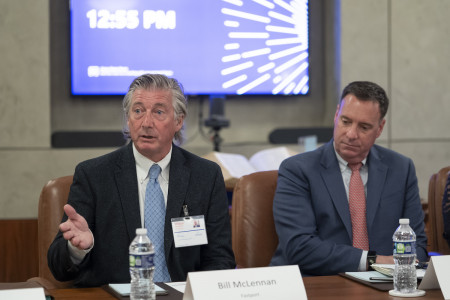 WASHINGTON, May 23, 2022 (Newswire.com) - FASTPORT CEO Bill McLennan will join the new Task Force Movement: Life-Cycle Pathways for Veterans and Military into Trucking as an industry advisor. The new Task Force unites military life cycle experts and trucking industry specialists to create recommendations and operationalize solutions to support the White House Trucking Action Plan to Strengthen America's Trucking Workforce.
"As an organization, one of our primary missions is to help all members of our nation's military community find great career opportunities with great employers. We are committed to improving the financial and economic well-being of our veterans, transitioning service members, members of the Guard and Reserve, and military spouses. We feel honored to be a part of the new Task Force Movement and look forward to supporting the Steering Committee," said FASTPORT CEO Bill McLennan.
Task Force Movement, which was established in April, comprises industry experts, union representatives and leaders from Veteran Service Organizations (VSOs), veteran influencers, and government officials. Task Force Movement's Steering Committee includes industry and VSO leaders who will work to prioritize issues and create recommendations on strategies and action plans.
"Our nation's outdated infrastructure and the effects of the ongoing pandemic have stressed our transportation industry, resulting in a critical shortage of truck drivers," says Hon. Patrick Murphy, Chair of the Task Force Movement Steering Committee. "Many of America's veterans have already developed specific skills that are perfectly aligned with the trucking industry, making them excellent candidates to help address these challenges and build the next generation's trucking workforce. By creating these career pathways into the trucking industry, Task Force Movement hopes to combat shortages while connecting military families with good-paying, family-sustaining careers that provide stability, a sense of purpose, and work-life balance."
"We are proud to have been selected by Biden-Harris Administration for a key role in their Trucking Action Plan. The FASTPORT team was in contact with more than 700 employers, associations, training providers and individuals who were interested in establishing, expanding, or participating in a registered apprenticeship. Joining the new Task Force allows us to build on this momentum and to directly address and improve unemployment and underemployment of veterans and their family members," said FASTPORT Executive Director of Workforce Development Dave Harrison.
About FASTPORT
FASTPORT, Inc. is a software development company that builds partnerships and digital products to accelerate businesses and launch careers. Our people and technology interact with the most productive veteran hiring initiatives in the United States and have received multiple contracts from the US Air Force Small Business Innovative Research program. FASTPORT is also the U.S. Department of Labor's Industry Intermediary and a part of the Centers of Excellence to support apprenticeship development and sustainability. For more information, visit www.fastport.com or www.nationalapprenticeship.org.
Source: FASTPORT