Family Bonds Celebrated With Concert at Scientology Information Center
Press Release
•
May 5, 2016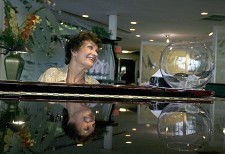 Tampa, FL, May 5, 2016 (Newswire.com) - Per Newsone.com one in four children in the US are being raised by a single parent – a percentage that has been on the rise and is higher than other developed countries. Rapid changes in American family structure over the many decades have altered the concept of what is considered a "traditional" family, becoming more complex and multifaceted.
Despite the composition of today's families, the strength and love in those families is more important than ever. To celebrate those caring and raising children, The Way to Happiness Association of Tampa Bay held a Piano concert in the Historic Bank of Clearwater Lobby. The event was hosted by the Scientology Information Center on Sunday May 1st from 6-8pm. Over two dozen guests ranging from their teens to their 80's attended the concert, including mothers, grandmothers and families.
"The event has been so uplifting and beautiful. I feel a renewed sense of hope about the possibility of reconciling with my family."
Kathy Roberts, a mother and a grandmother herself, entertained the audience with 40 years of piano skill. Versatile in all genres of music, Ms. Roberts played her list of most popular requests as well as individual requests from the audience.
"This concert was wonderful! It reminds us of Europe and the Metropolitan Opera in New York. I'm really happy that we were able to attend. Please let us know when you are planning more," stated a Greek couple formerly living in New York. Another guest stated, "The event has been so uplifting and beautiful. I feel a renewed sense of hope about the possibility of reconciling with my family."
Ms. Tanya Cranton, Executive Director of the Way to Happiness Association Tampa Bay, spoke about the activities that their association has undertaken, helping families improve their relationships through application of The Way to Happiness. The Way to Happiness is a non-religious, common-sense guide with 21 precepts written by humanitarian and founder of the Scientology Religion, Mr. L. Ron Hubbard.
"When people learn simple common sense advice on how to deal with the challenges families face, they have a better understanding of each other and they tend to be happier," stated Ms. Cranton.
"Children can reconcile their differences with their parents. Before any shouting begins, one can at least try to talk it over quietly. If the child is frank and honest, there cannot help but be an appeal that will reach. It is not always easy to get along with others but one should try," wrote Mr. Hubbard. "One cannot overlook the fact that almost always, parents are acting from a very strong desire to do what they believe is best for the child."
Upcoming events in the Information Center are: May 11th, Local Business/Chamber of Commerce Reception and; May 27th, Open House Reception. For more information or to attend future events please contact Amber Skjelset (Manager) at 727-467-6966 or e-mail her at amber@cos.flag.org.
About the Church of Scientology:
The Scientology religion was founded by humanitarian and philosopher, L. Ron Hubbard. The first Church of Scientology was formed in the United States in 1954 and has expanded to more than 11,000 churches, missions and affiliated groups in 167 nations. The Church of Scientology regularly engages in humanitarian programs and community events. Clearwater is the home of the spiritual headquarters for the Church of Scientology. Its Information Center is open to all and provides answers to questions about Scientology through its audio visual displays, exhibits and publications. The Church of Scientology has owned the Clearwater Bank Building since 1976, restoring it and transforming its lobby into an Information Center in July 2015.
Source: ScientologyNews.org
Tags