eyemore s1: A Low Light Pro Video Camera for iPhone
Press Release
-
updated: May 23, 2018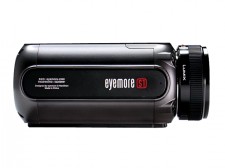 SAN FRANCISCO, May 23, 2018 (Newswire.com) - Meet the eyemore, the professional low light video camera that's built to put an entire film set into your hands through an interface you are familiar with - your iPhone. The eyemore simplifies the entire filming process without giving up on function. It allows anyone to create high-quality videos without prior experience thanks to its built-in intelligent algorithm which optimizes and its advanced features and specs to help bring your shots to a professional level with little effort.
Some of the things it can do:
Up to 400,000 ISO
14 Stops of Dynamic Range
Full HD 1080p
4/3" CMOS Sensor
Auto-Correction With Intelligent Algorithm
M4/3 Mount for Interchangeable Lenses
The built-in intelligent algorithm eyemore uses provides immediate smart correct functions, 1920x1080P/30fps resolution, automatic color grading, up to 14 stops of dynamic range and an ISO of up to 400,000. The algorithm it uses is known as known as eyeNoise and eyeMix, and its functions make it the perfect low light camera to film cinematic quality videos with.
Thanks to the intelligent algorithm behind eyemore, it brings you up to 14 stops of dynamic range to give you one of the widest ranges between whites and blacks available in any camera. Meaning it'll capture detail no matter how bright or dark it may be outside.
Built to use a 4/3 inch CMOS sensor and backed by the aforementioned algorithm (eyeNosie + eyeMix) eyemore S1 is able to provide you with high-quality cinematic video. By using a larger sensor it is able to capture more light and a greater surface area to create a higher quality image - one that matches and even outdoes the standard you'll find in DLSR cameras. As the eyemore captures more light per pixel, (due to larger pixel surface area) it creates less visible image noise and a higher quality video.
For information on upping one's videography check out eyemore Indiegogo's page: https://www.indiegogo.com/projects/eyemores1-a-low-light-pro-video-camera-for-iphone.
Source: eyemore s1
---
Categories: Photography
Tags: camera, iphone camera, low light camera
---