Exploring Medical Education in the Caribbean
Press Release
•
updated: Sep 6, 2017
South America's Biggest Little Secret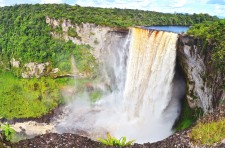 East Bank Demerara, Guyana, September 6, 2017 (Newswire.com) - ​​​The trend of pursuing medical studies abroad is gearing up at a steady pace and is gaining momentum every year. As a result of this, many students and parents are being presented with a variety of options in terms of medical universities abroad, putting many in a dilemma, as to which destination to choose.
There are several factors to consider while choosing the University Abroad for Medical Studies. Exposure in terms of clinical rotation will be a biggest challenge as most of the countries (China, Russia, Ukraine, Philippines) have less than 8 percent of English speaking population – interaction with the patients, which plays a critical role in exposure while they study, will be a challenging task.
With an education system known for its high standards throughout the country, many international students fulfill their aspirations of studying abroad by taking admission in Guyana or Caribbean. Moreover, the Option for U.S. Residency is specific for the medical schools in the Caribbean.
Guyana is well-known as 'South America's Biggest Little Secret' because of its spectacular natural beauty and amazing biological diversity. It is home to some of the world's largest and rarest flora and fauna including the Victoria Regent Lily, the tiny Golden Frog and more. Guyana is the only English speaking country in South America.
Texila American University, located in Guyana maintains a benchmark in medical education and prepares students to outshine as well-known professionals worldwide. TAU is currently registering students for its Doctor of Medicine (MD) program. The university offers the program with clinical rotations in the USA.
TAU is the first Caribbean University to have 1000-plus bed clinical rotation facilities for its students.
It is a known fact that acquiring quality clinical rotations within Unites States of America (USA) is enormously difficult as far as internationally trained physicians and medical students are concerned. With the clinical rotations exposure provided by the University, students become aware with the U.S. health-care system.
TAU has extensive partnership with renowned hospitals in USA for Clinical Rotations. The affiliated hospitals in USA are:
Adventist Behavioural HealthCare, Rockville, Maryland
Pickens County Medical Center, Carrollton, Alabama
Phoenix Women's Center, Atlanta, Georgia
Texila American University Consortium, established in 2010, with its new campus opened in Guyana is a top ranked Private Medical University in the Caribbean. The university offers a variety of courses in the field of healthcare education. The programs include, medicine, nursing and pharmacy.
To date the university's consortium has enrolled 4000+ students from 70-plus countries for its various programs – both on campus and blended learning mode. The University has 100 percent pass ratio in the Local Medical Council Exams and the alumni are practicing as Doctors world-wide.
Admissions are nearing closure for the Doctor of Medicine program at the Guyana Campus with the options of doing the last two years of Clinical Training in USA-affiliated Hospitals.
Key facts about Texila American University Guyana (TAU)
TAU is a top-ranked Caribbean Medical School
Offers Doctor of Medicine, Bachelor of Science in Nursing for Registered Nurses (RN to BSN) and Bachelors in Pharmacy
Alumni undertaking Medical Residency in the USA Alumni are also practicing as Licensed Physicians globally in many countries like India, Nigeria, Zambia etc.
To learn more about the University and to apply, please visit: http://www.texilaamericanuniversity.com/newswire-doctor-medicine.html
Source: Texila American University