DriSteem's Low-maintenance Humidification System Selected as Money-Saving Product by BUILDINGS Magazine
Press Release
•
updated: Jun 24, 2015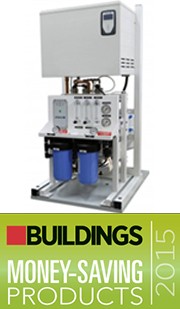 Eden Prairie, MN, June 23, 2015 (Newswire.com) - ​​​DRI-STEEM Corporation (DriSteem), a leading manufacturer of humidification, evaporative cooling, and water treatment products, is proud to announce that BUILDINGS magazine has selected its Low-maintenance Humidification System as a 2015 Money-Saving Product winner.
DriSteem's Low-maintenance Humidification System is part of an elite group of 83 products showcased in the magazine's June 2015 issue. Finalists were evaluated by the BUILDINGS editorial staff for the money-saving qualities they offer to building owners and facility managers in areas such as energy consumption, water savings, lighting, security, roofing, and maintenance.
"Our low-maintenance humidification system is an all-in-one system for water treatment and humidification," said Steve Felber, DriSteem product manager. "It significantly reduces the lifetime maintenance burden and cost of connected humidification equipment."
DriSteem delivers this near-zero maintenance steam humidification system through the integration of two proven products, the 200 Series reverse osmosis system and the Vapormist® electric humidifier, on a single skid mount.
The low-maintenance humidification system produces high purity water from any municipal or other potable water source, removing over 98% of dissolved solids. This prevents chalky scale build-up from overtaking the humidifier's water tank, thereby extending intervals between humidifier maintenance by 10x or more, virtually eliminating downtime.
For more information about DriSteem's Low-maintenance Humidification System, visit www.dristeem.com or call 952-949-2415.
About DriSteem
DriSteem is a premier provider of humidification, evaporative cooling, and water treatment solutions for commercial and industrial applications. DriSteem offers custom systems for critical indoor environments such as health care, data centers, and other facilities requiring precise control of moisture and cooling in the air.
DriSteem's 50-year history of development and innovation has resulted in multiple patented designs that not only meet, but anticipate, customers' unique needs. DriSteem is a subsidiary of Research Products Corporation, manufacturer of AprilaireÒ, the leading residential humidifier brand, as well as air cleaners, heat-recovery systems and HVAC accessories. Visit DriSteem at www.dristeem.com.
About BUILDINGS
BUILDINGS magazine serves over 74,000 commercial building owners and facilities management professionals in North America. The monthly publication helps readers make smarter decisions relevant to the management, modernization, and operation of their facilities.
###
Related Media