Condensing Gas-Fired Humidifier From DriSteem Perfect Fit for Continuing Care and Assisted Living Environments
Press Release
•
updated: Aug 6, 2019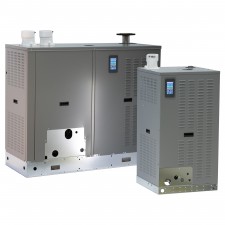 EDEN PRAIRIE, Minn., August 6, 2019 (Newswire.com) - DRI-STEEM Corporation (DriSteem) recently introduced the GTS® humidifier LX Series, the only gas-fired humidifier that combines high-efficiency with ultra-low nitrogen oxide (NOx) emissions in a single unit. No other humidifier on the market offers both of these important features together.
Humidification is a critical component of the HVAC system for continuing care and assisted living applications. Elderly residents in these facilities are especially vulnerable to health and wellness issues caused by overly dry air such as respiratory problems, skin irritations, dry nasal passages, dry eyes, and sore throats. According to the Centers for Disease Control and Prevention (CDC), 1 to 3 million serious infections occur every year in nursing homes, skilled nursing facilities, and assisted living facilities.
The LX Series humidifier offers protection against the issues that fluctuating and low relative humidity levels cause. Studies have shown that keeping relative humidity levels within a range of 40 to 60% is necessary to maintain a healthy indoor environment. There's evidence of a link between overly dry air and increased cold or flu transmission between people because dry air allows infectious particles, such as bacteria and viruses, to survive longer in the air and on surfaces. In addition, the natural defense system of our bodies become less effective in dry air, meaning that we are unable to fight off infection very effectively.
The patent-pending technologies of the LX Series humidifier combine the benefits of humidification for residents with critical factors for facility managers such as energy efficiency, environmental protection, water conservation, and control:
Steam capacities from 50 to 600 pounds per hour: The LX Series humidifier works for small to large facilities, and has the flexibility to tackle almost any application.
Condensing design provides for highest efficiency and PVC venting: Saves money on energy costs with greater than 90% efficiency.
Ultra-low NOx for a clean environment and to meet increasingly stringent regulations: The LX Series humidifier has ultra-low nitrogen oxide emissions of under 20 ppm and has been certified under the South Coast Air Quality Management District Rule 1146.2 air quality management standards for gas-fired humidifiers.
Reduced installation costs: The LX series patent-pending condensing technology ensures that the flue temperature stays under 140 degrees F, allowing for the use of PVC, CPVC, or polypropylene flue piping which is less expensive, easier to work with than stainless steel, and can be vented through sidewalls, saving on installation costs.
Minimum 5:1 turndown ratio for accurate humidity control: Accurate humidity control through a wide range of load conditions, providing consistent output from low to maximum demand.
Sensing technology that adjusts drain intervals automatically, in addition to accurately measuring water tank level: The LX Series humidifier includes patent-pending Smart Drain Technology, a universal water control that manages tank filling and draining for all water types. This technology automatically decreases the drain interval when highly conductive water (such as well water) is sensed to reduce scale buildup in the humidifier, for easier maintenance. Conversely, this technology reduces water usage by extending the drain interval with low conductive water, such as reverse osmosis or deionized.
Space-saving design for ease of installation and placement flexibility: All LX Series humidifiers feature a small footprint for easy installation in crowded mechanical rooms, with a wall mounting option for the smaller models for even more placement flexibility. For installing outdoors, there is a climate-controlled outdoor enclosure option available.
"Our GTS LX Series has been designed and built to support operational cost efficiency and manageable maintenance requirements for building owners and facilities personnel," comments Mike Lanners, DriSteem Director of Sales. "It is truly a next-generation breakthrough in gas-fired humidifiers, providing even more energy savings, greater installation flexibility, and better environmental protection for healthcare, continuing care and assisted living applications."
DriSteem's GTS humidifiers are the industry's first and best-selling gas-to-steam humidifiers, with over 22 years of proven performance. To learn more and to find the DriSteem sales representative nearest you, visit www.dristeem.com or call (800) 328-4447.
About DriSteem
DriSteem is a premier provider of humidification, evaporative cooling, and water treatment solutions for commercial and industrial applications. DriSteem offers custom systems for critical indoor environments such as health care, data centers, and other facilities requiring precise control of moisture and cooling in the air.
DriSteem's 50-year history of development and innovation has resulted in multiple patented designs that not only meet, but anticipate, customers' unique needs. DriSteem is a subsidiary of Research Products Corporation, manufacturer of Aprilaire®, the leading residential humidifier brand, as well as air cleaners, heat-recovery systems and HVAC accessories. Visit DriSteem at www.dristeem.com.
Source: DriSteem
Related Media
Related Files