DriSteem Introduces Water Treatment Systems That Improve Water Quality for Commercial Humidification Applications
Press Release
•
updated: Aug 10, 2015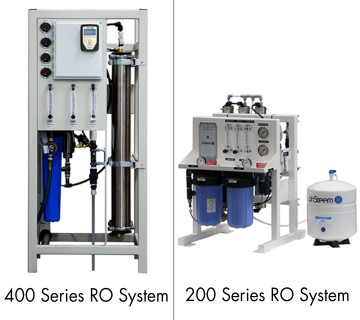 Eden Prairie, MN, July 1, 2015 (Newswire.com) - ​​​​​​​​DRI-STEEM Corporation (DriSteem) recently announced the addition of water treatment systems, expanding its product offerings in commercial humidification. These water treatment systems provide high purity water and can be installed with DriSteem equipment or used as stand-alone systems.
DriSteem's industrial-quality 400 series reverse osmosis (RO) system features an industry first – innovative front-only maintenance access that makes it easy to replace membranes and sediment filters. Plus, the industry-leading Vapor-logic® controller offers BAS network communications capability and delivers comprehensive system management. Alarms quickly inform the users of issues or changes for easy monitoring and corrective action. The Vapor-logic controller makes these RO systems the first interoperable systems available, with BACnet®​, Modbus®​, and LonTalk®​.
The 400 series system is available with dechlorinator, duplex water softeners, and brine tank to ensure the longest membrane life possible. This RO system can be used as a stand-alone system, or it can team up with DriSteem's humidification and high-pressure atomization evaporative cooling systems to deliver an all-in-one solution. The 400 series with optional pretreatment system can be preassembled by DriSteem, reducing installation cost and time.
DriSteem's compact 200 series reverse osmosis system fits into small spaces, producing high purity water from tap to well water, reducing required maintenance and providing a low total cost of ownership. It includes a sediment filter as well as a dechlorinator to protect the membranes from chlorine damage. Designed specifically for DriSteem equipment, but also perfect for stand-alone operation, the 200 series system is packaged and ready to operate right out of the box.
"Our customers were asking for water treatment that would work with their DriSteem equipment, either because they were in an area with poor water quality or because they wanted to reduce maintenance time and costs," said DriSteem Product Manager Steve Felber. "Now we can offer them our own RO systems that take the guesswork out of compatibility because they've been engineered to work with our humidifiers and high-pressure atomization evaporative cooling systems."
DriSteem water treatment systems also include water softening equipment that replaces hard water minerals with softened water, making maintenance easier and less frequent for humidification equipment.
For more information about DriSteem's Water Treatment Systems, visit www.dristeem.com or call 952-949-2415.
About DriSteem
DriSteem is a premier provider of humidification, evaporative cooling, and water treatment solutions for commercial and industrial applications. DriSteem offers custom systems for critical indoor environments such as health care, data centers, and other facilities requiring precise control of moisture and cooling in the air.
DriSteem's 50-year history of development and innovation has resulted in multiple patented designs that not only meet, but anticipate, customers' unique needs. DriSteem is a subsidiary of Research Products Corporation, manufacturer of Aprilaire®​, the leading residential humidifier brand, as well as air cleaners, heat-recovery systems and HVAC accessories. Visit DriSteem at www.dristeem.com.
###