Dr. Virginia Bergin MacKenzie's New Book "The Shirt on His Back: Escape From Liberia" is the Extraordinary True Story of a Family of Refugees Escaping a Deadly Civil War.
"The Shirt on His Back: Escape from Liberia" from Dr. Virginia Bergin MacKenzie OFS is a moving portrait of war-torn Liberia, discriminating America, and refugees in crisis, specifically the courageous Bailey family, who found themselves caught up in the vicious civil war in the Republic of Liberia, 1990, under a brutal regime that forced the Baileys to flee as refugees.
Press Release
-
updated: Jul 13, 2018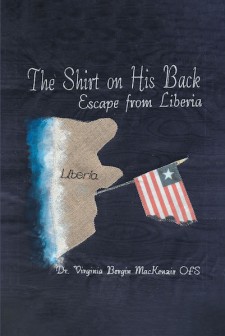 Hilton Head, SC, July 13, 2018 (Newswire.com) - Dr. Virginia Bergin MacKenzie OFS, a retired executive supervisor who belongs to the Secular Franciscan Order, has traveled the world extensively with her husband, and spends her retirement painting in every medium and collecting awards for her art, has completed her new book, "The Shirt on His Back: Escape from Liberia": the remarkable true story of a refugee family.
Dr. MacKenzie shares, "Besides being a book about the Baileys, this is a story about Liberia, the land where Joe and Vera Bailey were born. It has been said that everything in the Bible is true. Some of it actually happened. It wasn't just SOME of the following events that actually happened. It was ALL of them; one worse than the one that went before. Liberia is a story so incomprehensible that it has to be true. No literary embellishment or exaggeration is needed. This story is not a work of fiction. If this were a fairytale, it would start out with 'Once upon a time.' Unfortunately, this is no fairytale. It happened in a real place, with real people who were brutally tortured, raped, and murdered. Atrocities like these are still happening all over the world today. The United Nations reports that we have the largest, wide-spread refugee humanitarian crisis in the history of the world. People are fleeing tyrants and terror by the millions. Fortunately, the story of the Bailey family has a relatively happy ending, but many refugee stories do not."
Published by Covenant Books of Murrells Inlet, South Carolina, Dr. Virginia Bergin MacKenzie's new book astutely takes in the whole complex picture in a spirit of compassionate Franciscan understanding, even as it focuses on the inspiring story of the Baileys, specifically the late admirable Dr. Joseph Bailey.
In a bighearted effort to help refugees, profits from the book will be donated to the Franciscan Missions.
Readers can purchase "The Shirt on His Back: Escape from Liberia" at bookstores everywhere, or online at the Apple iTunes store, Amazon, or Barnes and Noble.
Covenant books is an international Christian owned and operated publishing house based in Murrells Inlet, South Carolina. Covenant Books specializes in all genres of work which appeal to the Christian market. For additional information or media inquiries, contact Covenant Books at 843-507-8373.
Source: Covenant Books
---
Categories: Books
Tags: "The Shirt on His Back: Escape from Liberia", Covenant Books, Dr. Virginia Bergin MacKenzie
---