Don't Jump In...the Untangled Acronym When Selecting a sUAS
According to a U.S. Army memo obtained by sUAS News, the U.S. Army Research Lab and U.S. Navy have concluded that there are operational risks
Press Release
-
updated: Aug 9, 2017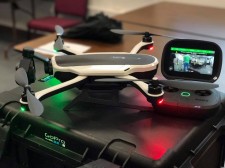 WASHINGTON, August 9, 2017 (Newswire.com) - Just under a week ago, top military officials inside the Pentagon downed the use of a Chinese based Unmanned Aircraft System based on "operational risks" and "cyber vulnerabilities."
The memo issued by Lieutenant General Joseph Anderson, the Deputy Chief of Staff, Department of the Army, is brief but to the point. "Due to increased awareness of cyber vulnerabilities associated with DJI products, it is directed that the U.S. Army halt use of all DJI products," his memo includes.  
Lieutenant General Anderson's directive appears to stem from both an Army and Navy report issued in May of this year. The directive, which includes Army Research Laboratory results is clear, "Cease all use, uninstall all DJI applications, remove all batteries/storage media from devices, and secure equipment for follow on direction."
"Don't Jump In when selecting a sUAS for your law enforcement, fire or public safety use," says Kevin Angell, Director of Product Development for Intrensic. "Flight logs, data storage and data security should be scrutinized as closely as the aircraft's capabilities."
Angell, who monitors the National sUAS program for Intrensic, oversees the use of the Karma in several arenas and touts their Digital Evidence Management platform as a better solution for captured media. "The aerial solution we provide does not use automatic flight logging and transmission, the devices do not record unless you activate them and we do not track or log your usage," said Angell. He says flight data is collected but the user can turn off its submission to U.S.-based servers. The data is only used for customer service calls, device malfunctions and developing better future products.
"What do you do with hours of video? Where do you store it and how do you find it later?" Intrensic CEO Kevin Mullins asked rhetorically. "That's where our products shine." Mullins said agencies can upload their sUAS video from mobile data terminals found in most patrol cars, fire apparatuses or any government approved device. "Our software is CJIS compliant and our unlimited cloud storage is authorized under FEDRAMP," said Mullins.
Intrensic encourages even non-military government agencies using Unmanned Aerial Systems identified in the U.S. Army memorandum to be aware of the "cyber vulnerability" they've uncovered. 
If you are ceasing your program and looking for an immediate replacement, Intrensic has opened a direct line to their sUAS Program Director. Call (844) 466-2568, Extension 704.
Source: Denise Zimny, Director of Government and Public Relations
Share:
---
Categories: Law Enforcement, Police Officers, Government
Tags: Body Worn Camera, CJIS, Cloud, drone, FEDRAMP, Intrensic, Karma, Storage, sUAS, UAS, UAV
---