Docusearch Spells Out Rules for Finding Social Security Numbers
Press Release
•
updated: Apr 3, 2018
In a new guide, the Docusearch team explains how and when attorney clients can find someone's Social Security number.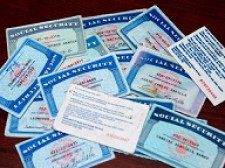 BOISE, Idaho, April 3, 2018 (Newswire.com) - Because Social Security numbers are such sensitive information, many attorney clients — and even many attorneys themselves — do not think they have access to someone else's Social Security number. As a result, the team of licensed private investigators at Docusearch has just released a guide titled "Finding SSN's -- Completely Legal for Attorney Clients" that explains how the process works.
According to Docusearch, finding someone's Social Security number is completely legal when:
- The search is ordered by a licensed attorney who can provide documentation that proves there is a legitimate legal need for the number
- A defendant owes money, including child support, outstanding debts, and lawsuit judgments
- The Social Security number in question is needed for official government business
- A defendant's active military status needs to be verified
- Any legal reason that requires the necessity of a Social Security number.
In the guide, Docusearch points out that some legal subscription services give attorneys access to Social Security numbers, but in most cases, those numbers are truncated. Plus, those subscriptions can be too expensive for smaller law firms. As a result, they say that the best way to find someone's Social Security number is to hire a licensed private investigator.
Docusearch asks for some basic information before doing a Social Security number search, including:
- The full name of the person in question
- His last known address
- His approximate age
As long as the person in question is over 21 and has established credit, Docusearch's licensed investigators can access his Social Security number through the major credit bureaus. In most cases, the number can be turned over to the attorney within an hour.
The Docusearch team urges attorneys to thoroughly check out an investigator before hiring him to find someone's Social Security number, because some are not licensed — which means they cannot legally access the number — while others will charge high fees or require a monthly subscription to get the number.
For more information, access Docusearch's guide at Finding SSNs – Completely Legal for Attorney Clients or, contact Docusearch at https://www.docusearch.com or 1-800-474-5350.
Source: Docusearch
Related Media