Disruptive IoT Company Pycom Announces Cutting-Edge Tech Entrepreneur as New Chairman
IoT startup Pycom has today announced the appointment of former NetComm Wireless CEO David Stewart as Chairman
Press Release
-
updated: Jul 10, 2017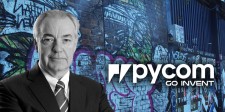 LONDON, England, July 10, 2017 (Newswire.com) - IoT tech startup Pycom has today announced the appointment of ex NetComm Wireless CEO David Stewart as Chairman with effect from 1st July 2017. David succeeds KO Chia who, after a year on Pycom's Board and almost a year as Chairman, announced in May his decision to step down from the Chairmanship while remaining on the board of directors to continue his support for the growth of the company.
The news of the appointment comes after a year and a half stint of building the startup from scratch and with recent achievements including the development and market introduction of an IoT hardware portfolio; as well as associated full-stack cloud-based software applications; as well as a growing 60k+ developer community earning the company a nomination as "Cool Vendor" by Gartner; as well as a shortlisting as one of TechCrunch-sponsored TheEuropas hottest "IoT Tech Startups in Europe."
An entrepreneur and CEO for more than 30 years, David Stewart founded Banksia Technology Pty Limited in 1988 and successfully managed the company as a fast-growing and highly profitable business. In 1996, he instigated the successful takeovers of a number of his competitors and David then assumed the role of Managing Director of the merged entity and remains the single largest shareholder.
"David is the best Chairman Pycom could wish for. He has a strong record in both managing and chairing Telecoms hardware and IoT related businesses, a deep understanding of life in high growth startup operations and a strong alignment with our ethos, culture and commitment to serving our growing community of developers. We are delighted that he has accepted the role," said Pycom's CEO Fred de Haro.
In June 2016, David was recognised with the highest honour — the Communications Ambassador 2016 Award — presented by ACOMMS Communications Alliance and CommsDay for his significant and valuable contribution to the Australian communications industry.
He retired at the end of 2016 and is now a Strategic Adviser.
David Stewart said that "Pycom represents my passion. The team is working right in the melting pot of startup business and serve the hottest tech market today with innovative technology. It's a path I understand very well and so when I met the founding team I decided to take the challenge to help them grow to their full potential. It's been a great journey so far."
Further information
David Stewart Bio on Pycom.io: http://www.pycom.io/board
Web: www.pycom.io
Twitter: www.twitter.com/pycomiot
Facebook: www.facebook.com/PycomIOT/
Youtube: https://www.youtube.com/channel/UCl7jJX5xiDnzNmnnjneWTdg
Hackster: www.hackster.io/pycom
About Pycom
Pycom enables and Inspires everyone to be an inventor. Often referred to as an IoT Rebel, Pycom is unapologetic in challenging conventional IoT. Since launching in January 2016, Pycom's gone on to introduce an LPWAN-based full-stack IoT portfolio consisting of 5 ESP32 based development boards WiPy, LoPy, SiPy, GPy and FiPy and a matching set of OEM modules all of which offer multi-network (incl. LoRa, Sigfox and LTE-M (NB-IoT/CAT-M1), low energy IoT deployments at the edge of the network. Pycom's common MicroPython firmware stack is open source and it's all supported by a full IoT stack including LPWAN network access through a multitude of network partners, the Pymakr Suite of IDE Plugins and the Pymate Mobile App as well as Pybytes, the free middleware platform and desktop application (coming June 2017).
Pycom aims to disrupt the IoT industry daring to deliver IoT solutions differently and this encourages the company's rapidly growing global community of hobbyist and professional developers — all of whom are looking to deploy great-value, enterprise-grade connected solutions — to #GOINVENT.
Press Contact
bettina@pycom.io
+447894900993
Source: Pycom
Share:
---
Categories: Educational Technology, High Technology, Telecommunications, Embedded Computing, Programming, Electrical and Electronics
Tags: CAT-M1, Development board, Internet of Things, IoT, LoRa, LPWAN, M2M, NB-IoT, OEM module, Sigfox, Technology, Telecommunications
---