Disruption and Transformation in Healthcare: Futurist Jack Uldrich to Speak to Leading Insurance Firm in California
Global futurist Jack Uldrich will address issues of disruptive technologies with a leading health insurance provider in California on March 6.
Press Release
-
updated: Mar 6, 2017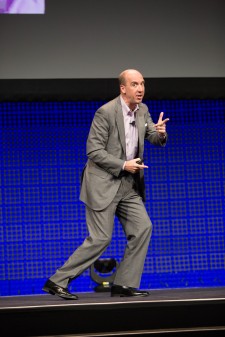 Los Angeles, CA, March 6, 2017 (Newswire.com) - Machiavelli once wrote: "Whosoever desires constant success must change his conduct with the times." Disruption leading to transformation is a paradigm shift futurist Jack Uldrich welcomes enthusiastically, especially when it comes to the future of health insurance.  
In fact, Uldrich spends the majority of his keynote addresses teaching and motivating his audiences around the world how to embrace and leverage technological change.
According to Uldrich, the template for insurance is changing fast. Advances in Blockchain, Artificial Intelligence, gene sequencing and editing, biotechnology, nanotechnology, 3D printing, robotics, data mining, wearable technologies, artificial intelligence, sensors, social networking, as well as several other burgeoning technologies will transform the face of modern medicine within the next decade. These technologies, combined with impending political decisions, will radically alter the health insurance industry.
"For better or worse," says Uldrich, "the future of health insurance will largely be determined by the industry's ability to understand—and thus underwrite—the future of various technologies."
Uldrich's clients in the insurance and healthcare sector include the Healthcare Information Management Systems Society, American Nurses Association, Fresenius, Michigan Health, and Hospital Association, Vynamic, California Nurse Leaders Association, and The Vision Council Executive Summit, among others. 
Today, Uldrich will keynote an event for a leading health insurance provider at an event in Palos Ranchos Verde, CA.
Parties interested in learning more about Jack Uldrich, this event, his writing, speaking availability or interviews, are encouraged to visit his website.
Source: Jack Uldrich & The School of Unlearning
Share:
---
Categories: Healthcare, Active and Healthy Living, Healthcare Insurance, Private, Group, and Managed Care Practices
Tags: Future Trends in Healthcare, Health Insurance, Keynote, public speakers
---