Direct Sales TV and Networking Times Announce Partnership
Companies align to help Network Marketers on a Global scale.
Press Release
-
updated: Sep 7, 2017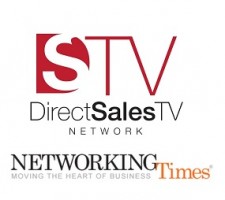 DALLAS, September 7, 2017 (Newswire.com) - Direct Sales TV (DSTV) announces today its partnership alliance with Networking Times. DSTV is the first TV Network dedicated to Direct Sales entrepreneurs with original content by and for those dedicated to this profession. Networking Times, published by Gabriel Media Group, Inc., is the world's premier bi-monthly educational journal for professional networkers worldwide, available online, in app, and in print. Both companies have a similar vision; to educate, inform and empower network marketing professionals and provide opportunities to a greater global community.
 
"For a long time we've wanted to add an audio-visual component to our offerings," says Chris Gross, co-founder and CEO of Networking Times. "Our expertise, being in written content and storytelling, we realized that going through that learning curve would take time away from what we do best. When we heard of Direct Sales TV and its global mission, we knew we had found a true partner. We immediately started brainstorming with our network of top leaders and mega-achievers to come up with the best ideas for exciting shows. Many of these top earners were eager to become show hosts to this new TV because they value the chance to share their success secrets with ever growing global audiences of entrepreneurs looking for business opportunities." 
"Networking Times is well-respected in the Direct Sales industry, we are honored to partner," says Amy Applebaum, co-founder Direct Sales TV. "Chris and Josephine's dedication to the network marketing industry the past 25 years has proven to be instrumental in the success of many network marketers globally. We are excited about the knowledge and passion they will share on their new TV show as well."
"We believe the future of business is collaboration," says Dr. Josephine Gross, co-founder and Editor-in-Chief. "Seeing a world of possibilities, we locked arms with Direct Sales TV and offered our full support to co-founders Esther Spina, Amy Applebaum, and Pasha Carter to launch what we see as potentially becoming one of the most-viewed TV networks in the digital world. We share common goals with Direct Sales TV from ongoing training for network professionals, to shortening the learning curve for new recruits through proven tips delivered by the 'giants' in our industry."
Networking Times is an advertisement-free publication that provides generic training and ongoing education for network marketing professionals around the world. The magazine focuses on the practical skills; what to say, what to do and cultivating the right mindset to succeed in the world of networking today.
DirectSales.tv is the first OTT television station with content created for network marketers and direct sellers. Direct Sales TV is the first of its kind and offers live television programming 24 hours per day, seven days per week. The network has openings for hosts, if you are interested, or would like to learn more go to http://www.directsalestvnetwork.com.
About Direct Sales TV
Direct Sales TV was founded by three successful direct marketers who share a passion for solving the global job crisis by helping men and women succeed in direct sales, no matter where they live or at what stage they are in life. The network offers a platform for leaders in Direct Sales to grow their community by sharing their message and expertise, and it provides resources for aspiring entrepreneurs joining the profession. The founder's passion will be accomplished globally through original video content created by successful hosts who share their stories, introduce product/service ideas and motivate their audiences to shine.  Call for hosts or learn more at http://www.directsales.tv. Find us on AppleTV and ROKU, simply search Direct Sales TV under streaming channels/media.
About Networking Times
Networking Times is a global community of entrepreneurs who choose network marketing as their vehicle for personal and global transformation. Published by Gabriel Media Group, Inc., Networking Times is a bi-monthly educational journal that helps network marketing professionals build the right skill sets and mindset to be successful in their businesses. A proven training tool and credibility builder, Networking Times is also used as a prospecting tool, providing powerful third-party validation for the network marketing business model and profession. To learn more about Networking Times and subscribe:  http://www.networkingtimes.com/allaccess
Source: Direct Sales TV Network and Networking Times
Share:
---
Categories: A&E News, Celebrities, Television, Business to Consumer, Entrepreneurship, Digital Living
Tags: digital media, direct sales, home based business, magazine, mlm, network marketing, network times, ott, streaming media
---