Digital Marketing Agencies May Hinder Business Growth, Industry Insider Warns
Press Release
•
Jul 6, 2022
Business owners are encouraged to dig deeper when evaluating their digital marketing outsourcing options.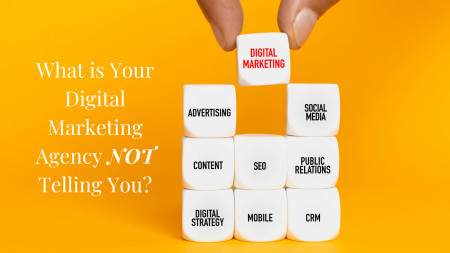 TORONTO, July 6, 2022 (Newswire.com) - Husam Jandal, an internationally acclaimed business and marketing consultant, says business owners outsourcing to digital marketing agencies have reason to be cautious. The industry insider, who has dedicated two decades to the field and carved out a career that includes educating agencies and business owners on digital marketing topics, notes that agencies aren't always how they present themselves. Husam Jandal International Ltd. covered the topic in-depth in the article, "What Your Digital Marketing Agency Didn't Tell You."
Jandal concedes that most agencies aren't intentionally misleading. However, agency owners are usually marketing professionals who previously worked in a specific subset of digital marketing and branched out independently, creating full-service firms in the process. While they may be especially skilled in one area, such as design or SEO, they're rarely experts across all the areas they provide services in and don't always employ experts. Lackluster ROI and diminished results are the outcomes.
"I've seen both sides of this," Jandal explains. "I was an educator in the Google Partners program and helped agencies become certified experts in a variety of areas. Now, business owners often come to me as a consultant because their agencies aren't performing, and I can trace it back to imbalanced expertise."
Jandal notes that, despite his broad range of expertise, he doesn't try to manage all aspects of digital marketing for his clients. Instead, he uses a mixture of in-house and outsourced talent to ensure an expert is placed in each role that needs to be filled. This, he says, is an essential component of his "recipe" for digital marketing success.
More than 1,000 new digital marketing agencies emerged in the past two years, per Ibis World. This flood of new options is helping take digital marketing outsourcing mainstream and initially gives business owners a sense of empowerment, but ultimately creates more distance and silos that can harm results too.
"There are certain roles, such as digital marketing management, that must be kept at the heart of the business," Jandal contends. This creates synergy between departments and ensures marketing is aligned with business objectives. Agencies are removed from the business and rarely produce the kinds of results you'll see in hybrid teams for this reason."
Those interested in learning more about digital marketing outsourcing or who would like help with their digital marketing are encouraged to visit HusamJandal.com.
About Husam Jandal
Husam Jandal is an internationally renowned business and marketing consultant and public speaker with a background that includes teaching Google Partners, educating at a collegiate level, receiving multiple Web Marketing Association Awards, and earning rave reviews from businesses of all sizes. For more information on his speaking or consultancy services, visit HusamJandal.com.
Husam Jandal
pr@husamjandal.com
+1.877.777.2057
Source: Husam Jandal International Ltd.