Diets in Review.com is Offering Students $6,500 in Scholarship Funds
Press Release
-
Oct 13, 2016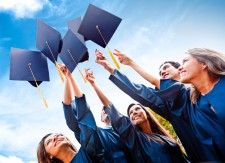 Los Angeles, California, October 13, 2016 (Newswire.com) - ​​DietsinReview.com is giving 3 students who are pursuing a degree the opportunity to win scholarships by submitting a short essay on the current obesity epidemic.
Obesity has risen as the number one preventable disease in the United States, and the number of those who are clinically obese people is steadily rising. To gain awareness of this predicament, Diets in Review has released a $3,500, $2,000, and a $1,000 scholarship to students who can write a short 1,000 to 1,500-word essay related to this issue. The full details and requirements can be read about in the official scholarship notification page: http://www.dietsinreview.com/scholarship/
The Diets in Review website has long been a pioneer in the fight against obesity. They provide unbiased reviews on many weight loss products, and they write informative articles about all things related to nutrition and wellness. They now offer students an outlet to speak up about the serious issue of obesity, in order to showcase what needs to be done to correct this problem. They seek to find essays that not only understand what obesity means to society, but also what can be done to help people make valuable changes via practical steps and corrective measures.
The website mentions, "Even though the obese have to be responsible when deciding what and how much they eat, society is what not only created obesity, but it has also discriminated against them. The media, food market, and the rapidly advancing technology are all factors that influence not only the increase in obesity rates, but also the physiological status of the obese."
The stated goal of the essay is to help future leaders spread awareness of this problem and to hopefully find a solution to prevent others from becoming obese. The types of questions that are raised include "How is obesity defined? What are the possible causes of obesity? How can obesity in America be prevented?" Students are welcome to add their own ideas and to provide any insights they may have.
In 2015, Diets in Review.com ran a similar scholarship program that also requested essays on the subject of obesity. They received a great turnout and were able to help students gain $6,000 in funds. In continuation of this program, they are now following up with this year's scholarship opportunities.
Eligible students are asked to submit their essays by April 30, 2017 by noon pacific standard time. Only those who are based in the United States and 14 or older can submit an essay. All essays can be submitted direct to the official website via an attachment. Those interested are asked to review the requirements, submit their applications and essay to the following website: http://www.dietsinreview.com/scholarship/
Winners will be announced on the Diets in Review Facebook page that can be seen here: https://www.facebook.com/dietsinreview/
About the Company:
Since 2007 the website Diets in Review.com has had its nutrition and health experts write articles and reviews on diet pills, weight loss diets, meal replacements and much more. They were originally based in New York City, but they've since spread their teams across the US in parts of California, Minnesota, Kansas, Colorado and New York. They're described as being the most comprehensive and most trusted resource for diet information on the Internet.
As of this press release, there are 2,431 reviews and 50,571 user ratings. They provide a large database for all things related to health and nutrition.
Contact Information:
Mailing Address: 216 N Mosley Ste. 200 Wichita, Kansas 67202
Email: help@dietsinreview.com
Contact Form: http://www.dietsinreview.com/contact/
Scholarship Page:http://www.dietsinreview.com/scholarship/
Source: Diets in Review.com
Share:
---
Categories: Funding, Business News, Educational News, Public Education, Continuing Education, Education
Tags: education, health, lifestyle, Scholarship, school
---