Diets in Review.com Has Discovered a Few Interesting Facts About Phen375
Press Release
•
updated: Dec 12, 2016
Phen375 is a weight loss pill that claims it can help burn fat and provide well-rounded weight loss benefits.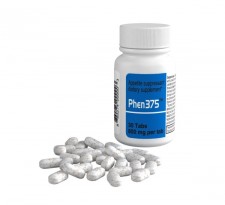 Los Angeles, California, December 12, 2016 (Newswire.com) - Phen375 is a weight loss pill that claims it can help burn fat and provide well-rounded weight loss benefits. Diets in Review.com have reviewed these claims and they've determined what Phen375 can truly do.
In their review they've thoroughly explained how the ingredients work, if the pricing is fair, what customers have had to say, how the business operates, possible side effects, and the overall quality. This is in order to help potential users determine on their own whether or not Phen375 is right for them. The review is broken into easy to navigate subheadings as well as a conclusion to explain Phen375 in full. The official review is available here: http://www.dietsinreview.com/diet_column/07/phen375-review/
In the review they reveal, "This brand is not reviewed well by customers, and it's possible for it to lead to extreme side effects." They go on to say, "When dealing with stimulants, it's important to know exactly what you're getting." The review reveals the fact that there is no information about the total dosage strength of the stimulants added.
The review is structured into the following headings:
"What is it?"
"Phen375 Ingredients and Side Effects"
"Phen375 Quality of Ingredients"
"The Price and Quality of Phen375"
"Business of Phen375"
"Customer Opinions of Phen375"
"Conclusion – Does Phen375 Work?"
A comparison chart is offered at the end of the review which compares the overall quality of Phen375 versus 6 other high rated diet pills. The criteria used are:
"User Rating"
"Has Good Appetite Suppressant"
"Has Only Natural Components"
"Contains No Coffee"
The official review can be read in the link found here.
The benefits of this review are due to the fact that researching all the information on diet pills can be time consuming and only understandable by nutrition and health experts. Dosage strengths and how ingredients interact with each other is something that requires extensive knowledge of several disciplines. The review simplifies what can be complex information and makes it available in one single source in the form of an unbiased review.
Diets in Review.com is made up of review experts who have determined both the pros and cons of weight loss products such as Phen375. They've simplified what can be complex information to help people make an informed decision on whether or not it's the right choice for their needs. They've long been a leader in providing easy to understand information on all things related to weight loss by offering reviews.
About the Company:
Diets in Review.com began in 2007 and they've had nutrition and health experts write informative reviews on diet pills, weight loss diets, meal replacements and anything related to real weight loss. They started in New York City but they now have teams all over the US in parts of California, Minnesota, Kansas, Colorado and New York. The website is described as being the largest and most trusted source for unbiased diet information.
Contact Information:
Email: help@dietsinreview.com
Contact Form: http://www.dietsinreview.com/contact/
Source: Diets in Review.com
Related Media