Designing the Future of Architecture
Futurist Jack Uldrich is in Detroit today to speak at the 99th Annual Business Meeting of the National Council of Architectural Registration Boards
Press Release
-
updated: Jun 28, 2018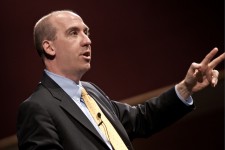 Detroit, MI, June 28, 2018 (Newswire.com) - Best-selling author Jack Uldrich is in Detroit today to share his insights on the future of architecture and construction with leaders from the National Council of Architectural Registration Boards at their 99th annual meeting. 
Uldrich's keynote will be focused on the game-changing technologies that could transform architecture and construction in the coming years.  When it comes to the trends affecting the future of these industries, Uldrich says that advancements in a wide variety of areas will have an impact. This includes innovations like 3D printing, artificial intelligence, advanced robotics, the blockchain, and virtual and augmented reality, but also the not so obvious trends of peer-to-peer lending and the "gig" economy.
Each of these trends and technologies is transforming architecture and construction at an exponential pace, and Uldrich will explore the possibilities the future may hold for them, and what impacts they may have on how we design and build in the future. He will also identify key opportunities to "design" the future of architecture created by these fast-emerging trends and technologies.  
According to Uldrich, "The faster we can recognize potential changes in technology, the better-prepared the construction industry will be in the long run. Everyone in the industry from ranging from architects to engineers to construction workers will need to increase their awareness of the advances in technology because at the end of the day these technologies will radically impact their future."
After his presentation today, Uldrich will travel to Boston to speak on the future of education for leaders with Graduate Management Admission Council.   
Jack Uldrich is the author of 11 books, including the award-winning bestsellers: The Next Big Thing is Really Small: How Nanotechnology Will Change the Future of Your Business and Jump the Curve: 50 Essential Strategies to Help Your Company Stay Ahead of Emerging Technology. His most recent book is Foresight 20/20: A Futurist Explores the Trends Transforming Tomorrow.
To learn more about Uldrich, his work, or his speaking availability, please visit his website.
Source: Jack Uldrich & The School of Unlearning
Share:
---
Categories: Architecture and Design
Tags: Architecture, Building, Construction, Design, Emerging Technologies, Jack Uldrich, Keynote, Trends
---