DECA Dental Group Partners With Pat and Emmitt Smith Charities for 'Back to School' Event
DECA Dental Group provides dental screenings for Dallas Independent School District students of all ages
Press Release
-
updated: Aug 17, 2017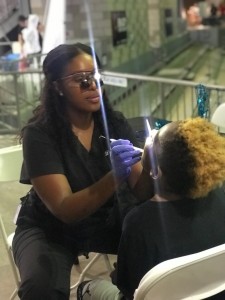 DALLAS, August 17, 2017 (Newswire.com) - DECA Dental Group provided dental screenings at this year's Pat and Emmitt Smith Charities "Back to School" Event, held at the Ellis Davis Field House on Aug. 9, 2017, for the third consecutive year.
DECA Dental provisioned a team of certified dentists and hygienists to administer complimentary oral screenings to students of five high-need elementary schools in the Dallas ISD.
Parents and students were educated on proper dental care and hygiene and now have the opportunity to receive ongoing dental treatment at one of DECA's dental offices.
"DECA Dental is a local dental company that believes in giving back to the community," said Dr. Sulman Ahmed, Founder and CEO of DECA Dental. "We firmly believe that every child should have access to quality dental care and we are just doing our part to make that happen. Great medical and dental health are major factors in building a child's self-confidence, which is key to them being successful in school and in life."
Pat and Emmitt Smith Charities brought together sponsors and partners such as JCPenney, McDonald's and Albertsons/Tom Thumb to provide 2,600 children with school uniforms, haircuts, dental screenings, vision screenings and nonperishable foods to take home.
Since partnering with Pat and Emmitt Smith Charities, DECA Dental has screened over 900 students and has donated over $170,000 in dental services.
"As DECA Dental Group continues to make strides within the community, we are very appreciative of the opportunity Pat and Emmitt Smith Charities has given us as we continue to create and strengthen lasting relationships," said Dr. Ahmed.
About DECA Dental:
DECA Dental is a Dental Service Organization located in Dallas, Texas with over 65 offices located throughout Texas including Ideal Dental and other affiliated brands. The company's mission is to put smiles on the faces of hundreds of patients that visit its offices daily. DECA enables its doctors to deliver quality and affordable dental care by requiring ongoing training, education and mentoring for all Doctors. This, in addition to an internal review board, ensures that every doctor is delivering the best care possible.
The company is also just as dedicated to the community as it is to its patients. DECA is a proud supporter of St. Jude Children's Research Hospital and the exclusive provider of dental services to the Kidd's Kids, Pat & Emmitt Smith Charities and the Dallas Mavericks organizations.
DECA Dental Group was founded in 2008 by CEO, Dr. Sulman Ahmed. His belief in putting patients first is the fundamental backbone in DECA Dental's core values and patient care delivery model. Under Dr. Ahmed's leadership, DECA Dental has received many honors and awards including being recognized as one of Inc. Magazine's Top 5000 fastest growing companies in the nation and D Magazines Dallas-Fort Worth's Premier Dental Group. Dr. Ahmed was also named EY Entrepreneur of the Year in 2017.
To learn more information about DECA Dental, visit decadental.com.
About Pat & Emmitt Smith Charities:
Pat and Emmitt Smith Charities is a 5019(c)(3) public charity that provides unique educational opportunities and experiences for children. Focusing primarily on North Texas, Pat & Emmitt Smith Charities' flagship, hands-on mentoring program, TEAM 22 offers a multi-year curriculum including mentorship, leadership camp, community service and unique excursions where they meet with community and world leaders. The charity also supports local organizations through an annual grants process, provides college scholarships and hosts an annual back to school program serving thousands of children in Dallas.
Media Contact:
Contact: Michelle Pierce
Company: DECA Dental
Phone: 972-361-0600 x 134
Email: mpierce@decadental.com
Source: decadental.com
Share:
---
Categories: Healthcare, Dentistry, Charitable Contributions
Tags: Back to School, Charity, Community, Dallas, DISD, Donate, Dr. Sulman Ahmed, Give Back, Pat and Emmitt Smith Charities, Texas
---