David B. Nolan, Sr.'s New Book, "LBJ's and Nixon's Patsy" is an Astonishing Compilation of Public Domain Information That Uncovers the Truth Behind the JFK Assassination.
"LBJ's and Nixon's Patsy" from David B. Nolan, Sr. is a powerful fictional trial record that assimilates credible information available in the public domain that trace and convict the involvement of the Warren Commission as well as rogue elements of the CIA, FBI, US Secret Service, Dallas Police, and US military in the assassination of America's thirty-fifth and first and only Catholic president.
Press Release
-
updated: Jul 12, 2018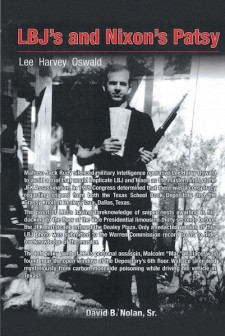 Centerville, MA, July 12, 2018 (Newswire.com) - David B. Nolan, Sr., a former Reagan White House attorney, coauthor of Amazon Books' 2014 "Quest for Freedom," and a "dangerous truther" granted Q2 nuclear safety clearance, has completed his new book, "LBJ's and Nixon's Patsy":  an authoritative argument revealing the Warren Commission's coverup in the JFK assassination.
Nolan shares, "If you believe in the Easter Bunny, the fictitious Iraqi weapons of 'mass destruction,' or the 'desire' of the U.S. government to end eavesdropping on phone calls of one hundred million Americans, you will probably support the Warren Commission in its cover up of the assassination of our 35th president, John Fitzgerald Kennedy. Roger Stone's book, The Case Against LBJ, persuasively argues that Vice President Lyndon Baines Johnson had the motive, the ruthless power grabbing temperament, and the opportunity to initiate and then cover up the coup d'état to topple the leader of the free world. I am the sixth iconoclastic historian to reach this identical conclusion.
Nearly four-fifths of Americans disagree with the Warren Commission conclusion that there was a sole assassin of our first and only Catholic U.S. president. The subsequent Jack Rudy assassination of the putative killer, the patsy Lee Harvey Oswald, denied the world any tribunal to expose the truth."
Published by Covenant Books of Murrells Inlet, South Carolina, David B. Nolan, Sr.'s new book is a striking, provocative work that braves controversy to deliver factual truth in a highly digestible format: that of fictional trial records.
Detailing the imagined trial of Lee Harvey Oswald, Nolan ties together all the important elements for a decisive, watertight case against the "single nut" theory of a lone assassin.
Readers can purchase "LBJ's and Nixon's Patsy" at bookstores everywhere, or online at the Apple iTunes store, Amazon, or Barnes and Noble.
Covenant Books is an international Christian owned and operated publishing house based in Murrells Inlet, South Carolina. Covenant Books specializes in all genres of work which appeal to the Christian market. For additional information or media inquiries, contact Covenant Books at 843-507-8373.
Source: Covenant Books
---
Categories: Books
Tags: "LBJ's and Nixon's Patsy", Covenant Books, David B. Nolan, new book, Sr.
---