Darrell Hutchinson's New Book 'Jesus Colony' is a Riveting Novel of a Future Religious Colony Tarnished by Depravity and Desire for Perfect Control
Recent release 'Jesus Colony' from Covenant Books author Darrell Hutchinson is an intriguing story about a futuristic lunar colony founded in Christ's name by a pastor that spirals into chaos due to greed and misguidance.
Press Release
-
updated: Aug 14, 2020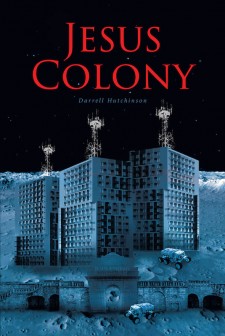 GOODYEAR, Ariz., August 14, 2020 (Newswire.com) - Darrell Hutchinson, a passionate Christian writer, has completed his new book "Jesus Colony": an electrifying tale of corruption and deviance within Jesus Colony, a lunar community birthed by a pastor who claimed visions of God's mandate for a land of righteousness.
Darrell writes, "Pastor Leonard J. Buchanan Sr., affectionately known as Pastor Buck, was a high-spirited minister with unconventional aspirations. One night in 2036, he dreamed he was the leader of a group of Christians who had colonized the moon to create a sin-free environment. After he awoke, he believed God had directed him to fulfill the dream and create a land of righteousness. Next, he faced a host of challenges in his effort to raise tens of millions of dollars for the unprecedented project. Although there was much skepticism within the Christian community, he successfully pitched the idea to a global audience and was eventually able to secure the necessary funding to make his dream a reality. Pastor Buck's reputation and credibility was now on the line as he pursued this once-in-a-lifetime opportunity to bring the kingdom of heaven down to the surface of the moon.
Pastor Buck coordinated with the National Cosmic Administration and the Lunar Land Management Bureau to transport five hundred church members to the newly constructed Jesus Colony! Initially, everything was fantastic as colonists described their conditions as being second only to heaven. However, within months, policies were established to achieve and maintain an acceptable level of righteousness. Ultimately, their natural pursuit of righteousness led to intimidation, strife, and fear. Lunar Crime Enforcement agents began to investigate Jesus Colony when family members on earth notified members of Congress about disturbing and criminal allegations against Pastor Buck. Now under pressure, Pastor Buck did everything within his power to maintain ultimate control of the colonists as his dream faded before his eyes.  Afterward, a series of unimaginable events transpired which placed Jesus Colony under further intense scrutiny. Finally, the self-righteous decisions of Pastor Buck forever changed his family, congregation, and the bewildered colonists."
Published by Covenant Books of Murrells Inlet, South Carolina, Darrell Hutchinson's new book is a compelling depiction of the debauchery prevalent in religious settings when people are overwhelmed with power that ultimately breeds apathy and wickedness.
Readers can purchase "Jesus Colony" at bookstores everywhere or online at the Apple iTunes store, Amazon, or Barnes and Noble.
Covenant Books is an international Christian-owned and operated publishing house based in Murrells Inlet, South Carolina. Covenant Books specializes in all genres of work which appeal to the Christian market. For additional information or media inquiries, contact Covenant Books at 843-507-8373.
Source: Covenant Books
Share:
---
Categories: Publishing and Printing
Tags: "Jesus Colony", Covenant Books, Darrell Hutchinson
---