Dark Fantasy RPG 'Inferno: Deathfield' Finally Hits Steam Early Access
Venture into the dark kingdom and send all demons back to where they belong. Seal the door of hell once and for all.
Press Release
-
updated: Jan 26, 2018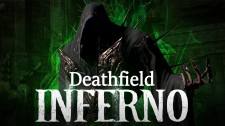 SEOUL, South Korea, January 26, 2018 (Newswire.com) - "Inferno: Deathfield," the HTC VIVE exclusive hardcore action fantasy VR game developed by Framing Inc. and published by YJM Games, hits Steam Early Access.
​
"Inferno: Deathfield" immerses players in a surreal high-quality graphic environment, where players have to battle waves of demons. Quick reactions will be needed during the battle as fast-paced action is one of the core elements of the game.
Purchase Inferno: Deathfield on Steam: http://store.steampowered.com/app/683150/Inferno_Deathfield/
"Inferno: Deathfield" offers two different gameplay modes: the Story Mode and the Infinite Mode. In the Story Mode, players have to go through waves of demons in a maze-like castle and find the way to the top. In the fight against demons, players will be using swords, crossbows and shields.
On top of those, players can utilize two different skills that will be helpful during the battle: Time Slow and Dodge Slow. Time Slow will slow down everything around the player whereas Dodge Slow is a combination of dash movement and Time Slow, allowing a player to move around and dodge the enemies' fire as they kill them.
In the Infinite Mode, demons keep appearing and the player will have to survive their attack as long as they can to set the best record among players worldwide. Players will find "Inferno: Deathfield" to be a quite difficult game. Good luck not getting killed over and over, and try to develop various strategies to clear the stages!
Assets can be downloaded from the press kit:  https://drive.google.com/drive/folders/1Dn3i3VKeLcmeAWpCV3QssVJFfFdzYOVS?usp=sharing
Follow 'Inferno: Deathfield':
Twitter: https://twitter.com/YJMGames
YouTube: https://www.youtube.com/channel/UCOYRhFUUquiUFa7iIbgY3cg
About YJM Games
Since 2011, YJM Games has been an active participant within the games industry. It is currently preparing a lineup of VR titles spanning the most popular content distribution platforms, with the goal of introducing consumers worldwide to new VR experiences. YJM Games is a member of VRFund (Venture Reality Fund) and is looking for VR studios for potential cooperation. To learn more, visit http://yjmgames.com.
Press Contact
YJM Games
+82 70 4759 3771
adeline@yjmgames.com
Source: YJM Games
Share:
---
Categories: Video Games, Video Games, Online Gaming
Tags: Action, Adventure, Fantasy, FPS, Games, HTC Vive, PC, RPG, Steam, Virtual Reality, VR
---